Hibridación genómica comparativa: su interpretación y uso como herramienta diagnóstica en retardo mental inespecífico y síndromes de microdeleción/microduplicación
Victoria Andrea Osorio M

Universidad Libre, Cali, Colombia

Lizeth Gabriela Garzón Guerrón

Universidad Libre, Cali, Colombia

Julián Ramírez-Cheyne

Universidad Libre, Cali, Colombia

Stephania Posada Guiran

Universidad Libre, Cali, Colombia
Resumen
En Colombia el cariotipo por bandeo es todavía la prueba inicial más usada en el estudio de pacientes con retardo mental o con anomalías congénita múltiples. Sin embargo, las técnicas moleculares, particularmente la hibridación genómica comparativa con microarrays, han permitido identiicar un número creciente de síndromes de microduplicación o microdeleción en estos pacientes, de modo que mundialmente esta es hoy en día la tecnología de elección para evaluar alteraciones del número de copias. Se realiza esta revisión de la literatura con el objetivo de brindar al personal médico información actualizada acerca de la interpretación y el papel de la hibridación genómica comparativa con microarrays como herramienta diagnóstica en retardo mental inespecíico, síndromes de microdeleción/ microduplicación y análisis cromosómico prenatal. MÉD.UIS. 2016;29(2):137-44.
Palabras clave: Hibridación Genómica Comparativa. Discapacidad intelectual. Deleción Cromosómica. Duplicación Cromosómica.Diagnóstico Prenatal.

Descargas
Descargar los datos que aún no están disponibles
Citas
1. Battaglia A, Carey J. Diagnostic evaluation of developmental delay/mental retardation: An overview. Am J Med Genet. 2003;117C(1):3-14.

2. Frey G, Temple V. Health promotion for Latin Americans with intellectual disabilities. Salud Publica Mex. 2008;50(2):167-77.

3. Salvador-Carulla L, Rodríguez-Blázquez C, Martorell A. Intellectual disability: an approach from the health sciences perspective. Salud Publica Mex. 2008;50(2):142-50.

4. Saldarriaga W, Ballesteros A. Diagnóstico prenatal de anomalías genéticas. Texto Neonatol. 2012:497-502.

5. Bergemann A, Cole F, Hirschhorn K. The etiology of WolfHirschhorn syndrome. Trends Genet. 2005;21(3):188-95.

6. Weise A, Mrasek K, Kosyakova N, Mkrtchyan H GM, V. K. Fluorescence in situ hybridization (FISH)— application guide. In: Liehr T, editor. ISH probes derived from BACs, including microwave treatment for better FISH. In: Berlin Heidelberg, Germany: Springer-Verlag. Vol Chapter 4. ; 2009.

7. Stankiewicz P, Lupski J. Genome architecture, rearrangements and genomic disorders. Trends Genet. 2002;18(2):74-82.

8. Ji Y, Eichler E, Schwartz S, Nicholls RD. Structure of chromosomal duplicons and their role in mediating human genomic disorders. Genome Res. 2000;10(5):597-610.

9. Pujana MA, Nadal M, Guitart M, Armengol L, Gratacós M, Estivill X. Human chromosome 15q11-q14 regions of rearrangements contain clusters of LCR15 duplicons. Eur J Hum Genet. 2002;10(1):26-35.

10. Artigas-Pallarés J, Gabau-Vila E, Guitart-Felubadaló M. El autismo sindrómico: I. Aspectos generales. Rev Neurol. 2005;40(Supl 1):S143-49.

11. Saldarriaga W, Ballesteros A. Diagnóstico Prenatal de Anomalías Genéticas. Distribuna. Bogota; 2012.

12. Leung T, Pooh R, Wang C, Lau T, Choy K. Classification of pathogenic or benign status of CNVs detected by microarray analysis. Expert Rev Mol Diagn. 2010;10(6):717-21.

13. Saldarriaga-Gil W. De la observación microscópica de los cromosomas en el cariotipo a los array-CGH en el diagnóstico prenatal. Rev Colomb Obstet Ginecol. 2013;64(3):327-32.

14. Pinkel D, Segraves R, Sudar D, Clark S, Poole I, Kowbel D, et al. High resolution analysis of DNA copy number variation using comparative genomic hybridization to microarrays. Nat Genet. 1998;20(2):207-11.

15. Lee J, Carvalho C, Lupski J. A DNA replication mechanism for generating nonrecurrent rearrangements associated with genomic disorders. Cell. 2007;131(7):1235-47.

16. Lee C, Iafrate A, Brothman A. Copy number variations and clinical cytogenetic diagnosis of constitutional disorders. Nat Genet. 2007;39(7):48-54.

17. Tsuchiya K, Shaffer L, Aradhya S, Gastier J, Patel A, Rudd M, et al. Variability in interpreting and reporting copy number changes detected by array-based technology in clinical laboratories. Genet Med. 2009;11(12):866-73.

18. Rodriguez-Revenga L, Mila M, Rosenberg C, Lamb A, Lee C. Structural variation in the human genome: The impact of copy number variants on clinical diagnosis. Genet Med. 2007;9(9):600-6.

19. Weise A, Mrasek K, Klein E, Mulatinho M, Llerena JC Jr, Hardekopf D, et al. Microdeletion and Microduplication Syndromes. J Histochem Cytochem. 2012;60(5):346-58.

20. McKusick-Nathans Institute of Genetic Medicine. Online Mendelian Inheritance in Man, OMIM®. Johns Hopkins University (Baltimore, MD). http://omim.org/. Accessed August 15, 2011.

21. von der Lippe C, Rustad C, Heimdal K, Rødningen OK. 15q11.2 microdeletion - Seven new patients with delayed development and/or behavioural problems. Eur J Med Genet. 2011;54(3):357-60.

22. Kearney H, South S, Wolff D, Lamb A, Hamosh A, Rao KW. American College of Medical Genetics recommendations for the design and performance expectations for clinical genomiccopy number microarrays intended for use in the postnatal
setting for detection of constitutional abnormalities. Genet Med. 2011;13(7):676-9.

23. Miller D, Adam M, Aradhya S, Biesecker LG, Brothman AR, Carter NP, et al. Consensus statement: chromosomal microarray is a first-tier clinical diagnostic test for individuals with developmental disabilities or congenital anomalies. Am J Hum
Genet. 2010;86(5):749-64.

24. Regier D, Friedman J, Marra C. Value for money? Array genomic hybridization for diagnostic testing for genetic causes of intellectual disability. Am J Hum Genet. 2010;86(5):765-72.

25. Saldarriaga W, García-Perdomo HA, Arango-Pineda J, Fonseca J. Karyotype versus genomic hybridization for the prenatal diagnosis of chromosomal abnormalities: a metaanalysis. Am J Obstet Gynecol. 2015;212(3):330.e1-330.e10

26. Mori M, Mansilla E, García F, Vallespín E, Palomares M, Martín R, et al. Diagnóstico prenatal y array-hibridación genómica comparada (CGH)(I). Gestaciones de elevado riesgo. Diagn Prenat. 2012;23(2):34-48.

27. Guitart-Feliubadaló M, Brunet-Vega A, Villatoro-Gómez S, BaenaDíez N, Gabau-Vila E. Causas cromosómicas que originan el retraso mental: alteraciones cromosómicas diagnosticables en el paciente. Rev Neurol. 2006;42(supl 1):S21-6.

28. Regier D, Friedman J, Marra C. Value for money? Array genomic hybridization for diagnostic testing for genetic causes of intellectual disability. Am J Hum Genet. 2010;86:765-72.

29. Van Karnebeek CDM, Jansweijer MCE, Leenders AGE, Offringa M, Hennekam RCM. Diagnostic investigations in individuals with mental retardation: a systematic literature review of their usefulness. Eur J Hum Genet. 2005;13(1):6-25.

30. Chelly J, Khelfaoui M, Francis F, Chérif B, Bienvenu T. Genetics and pathophysiology of mental retardation. Eur J Hum Genet. 2006;14(6):701-13.

31. Cabarcas Castro L. Etiologia del retardo mental en la población pediatrica que asiste a consulta de neuropediatría en el hospital militar central e instituto de ortopedia infantil roosevelt bogota,colombia, 1 agosto 2009 - 31 de enero de 2011[TESIS]. Bogotá: Universidad Militar Nueva Granada;2011.

32. Battaglia A, Bianchini E CJ. Diagnostic yield of the comprehensive assessment of developmental delay/mental retardation in an institute of child neuropsychiatry. Am J Med Genet. 1999;82(1):60-6.

33. Bocian E, Helias-Rodzewicz Z, Suchenek K, Obersztyn E, Kutkowska-Kazmierczak A, Stankiewicz P, et al. Subtelomeric rearrangements: results from FISH studies in 84 families with idiopathic intellectual disability. Med Sci Monit. 2004;10( 4):CR143-51.

34. Gribble SM, Prigmore E, Burford DC, Porter KM, Ng BL, Douglas EJ, et al. The complex nature of constitutional de novo apparently balanced translocations in patients presenting with abnormal phenotypes. J Med Genet. 2005;42(1):8-16.

35. Flint J, Knight S. The use of telomere probes to investigate submicroscopic rearrangements associated with mental retardation. Curr Opin Genet Dev. 2003;13(3):310-6.

36. Koolen DA, Nillesen WM, Versteeg MH, Merkx GF, Knoers NV, Kets M, et al. Screening for subtelomeric rearrangements in 210 patients with unexplained mental retardation using multiplex ligation dependent probe amplification (MLPA). J Med Genet.2004;41(12):892-9.

37. Rooms L, Reyniers E, Kooy R. Subtelomeric rearrangements in the mentally retarded: a comparison of detection methods. Hum Mutat. 2005;25(6):513-24.

38. Vissers LELM, Vries BBA De, Osoegawa K, Janssen IM, Feuth T, On Choy C, et al. Array-Based Comparative Genomic Hybridization for the Genomewide Detection of Submicroscopic Chromosomal Abnormalities. 2003;73(6):1261-70.

39. Shaw-Smith C, Redon R, Rickman L, Rio M, Willatt L, Fiegler HE, et al. Microarray based comparative genomic hybridization (array-CGH) detects submicroscopic chromosomal deletions and duplications in patients with learning disability/ mental retardation and dysmorphic features. J Med Genet. 2004;41(4):241-8.

40. Schoumans J, Ruivenkamp C, Holmberg E, Kyllerman M, Anderlid B-M, Nordenskjöld M. Detection of chromosomal imbalances in children with idiopathic mental retardation by array based comparative genomic hybridisation (array-CGH). J
Med Genet. 2005;42(9):699-705.

41. Snijders AM, Nowak N, Segraves R, Blackwood S, Brown N, Conroy J, et al. Assembly of microarrays for genome-wide measurement of DNA copy number. Nat Genet. 2001;29(3):263-4.

42. Kriek M, White S, Bouma M, Dauwerse H, Hansson K, Nijhuis J. Genomic imbalances in mental retardation. J Med Genet. 2004;41(4):249-55.

43. Bejjani BA, Theisen AP, Ballif BC SL. Array-based comparative genomic hybridization in clinical diagnosis. Expert Rev Mol Diagn. 2005;5(3):421-9.

44. Turner DJ, Miretti M, Rajan D, Fiegler H, Carter NP, Martyn L. Europe PMC Funders Group The rates of de novo meiotic deletions and duplications causing several genomic disorders in the male germline. 2009;40(1):90-5.

45. Liehr T, Ewers E, Hamid AB, Kosyakova N, Voigt M, Weise A, et al. Small supernumerary marker chromosomes and uniparental disomy have a story to tell. J Histochem Cytochem. 2011;59(9):842-8.

46. Zollino M, Lecce R, Fischetto R, Murdolo M, Faravelli F, Selicorni A, et al. Mapping the Wolf-Hirschhorn Syndrome Phenotype Outside the Currently Accepted WHS Critical Region and Defining a New Critical Region , WHSCR-2. Am J Hum Genet.
2003;72(3):590-7.

47. Tatton-Brown K, Douglas J, Coleman K, Baujat G, Chandler K, Clarke A, et al. Multiple mechanisms are implicated in the generation of 5q35 microdeletions in Sotos syndrome. J Med Genet. 2005;42(4):307-13.

48. Chen L, Mullegama S V, Alaimo JT, Elsea SH. Smith-Magenis syndrome and its circadian influence on development, behavior, and obesity - own experience. Dev period Med. 19(2):149-56.

49. Magoulas PL, Liu P, Gelowani V, Soler-Alfonso C, Kivuva EC, Lupski JR, et al. Inherited dup(17)(p11.2p11.2): expanding the phenotype of the Potocki-Lupski syndrome. Am J Med Genet A. 2014;164A(2):500-4.

50. Cheon C-K, Ko JM. Kabuki syndrome: clinical and molecular characteristics. Korean J Pediatr. 2015;58(9):317-24.

51. Ballarati L, Cereda A, Caselli R, Selicorni A, Recalcati MP, Maitz S, et al. Genotype-phenotype correlations in a new case of 8p23.1 deletion and review of the literature. Eur J Med Genet. 54(1):55-9.

52. Jordan VK, Zaveri HP, Scott DA. 1p36 deletion syndrome: an update. Appl Clin Genet. 2015;8:189-200.

53. Lee BH, Kasparis C, Chen B, Mei H, Edelmann L, Moss C, et al. Setleis syndrome due to inheritance of the 1p36.22p36.21 duplication: evidence for lack of penetrance. J Hum Genet. 2015;60(11):717-22.

54. Gazave E, Darré F, Morcillo-Suarez C, Petit-Marty N, Carreño A, Marigota UM, et al. Copy number variation analysis in the great apes reveals species-specific patterns of structural variation. 2011;21(10):1626-39.

55. Marques-Bonet T, Eichler E. The Evolution of Human Segmental Duplications and the Core Duplicon Hypothesis. Cold. 2009;74:355-62.

56. Bailey JA, Eichler EE. Primate segmental duplications: crucibles of evolution, diversity and disease. Nat Rev Genet. 2006;7(7):552-64.

57. Korbel JO, Urban AE, Affourtit JP, Godwin B, Grubert F, Simons JF, et al. Europe PMC Funders Group Paired-End Mapping Reveals Extensive Structural Variation in the Human Genome. 2009;318(5849):420-6.

58. Kidd JM, Cooper GM, Donahue WF, Hayden HS, Sampas N, Graves T, et al. Mapping and sequencing of structural variation from eight human genomes. 2008;453(7191):56-64.

59. Lieber MR. The mechanism of human nonhomologous DNA end joining. J Biol Chem. 2008;283(1):1-5.

60. Gimelli G. Genomic inversions of human chromosome 15q11-q13 in mothers of Angelman syndrome patients with class II (BP2/3) deletions. Hum Mol Genet. 2003;12(8):849-58.

61. Koolen DA, Vissers LE, Pfundt R, de Leeuw N, Knight SJ, Regan R, et al. A new chromosome 17q21.31 microdeletion syndrome associated with a common inversion polymorphism. Nat Genet. 2006;38(9):999-1001.

62. Shaffer LG. Diagnosis of microdeletion syndromes by fluorescence in situ hybridization (FISH). Curr Protoc Hum Genet. 2001; Capitulo 8:Unidad 8.10.

63. 63. Gu W, Zhang F, Lupski JR. Mechanisms for human genomic rearrangements. Pathogenetics. 2008;1(1):4.

64. Gratacos E, Delgado J. Procedimientos invasivos ecoguiados en medicina fetal. Med fetal. 2007:129-135.

65. Brady P, Devriendt K, Deprest J, Vermeesch J. Array-Based Approaches in Prenatal Diagnosis. Methods Mol Biol. 2012;838:151-71.

66. Armengol L, Nevado J, Serra-Juhé C, Plaja A, Mediano C, García-Santiago FA, et al. Clinical utility of chromosomal microarray analysis in invasive prenatal diagnosis. Hum Genet. 2012;131(3):513-23.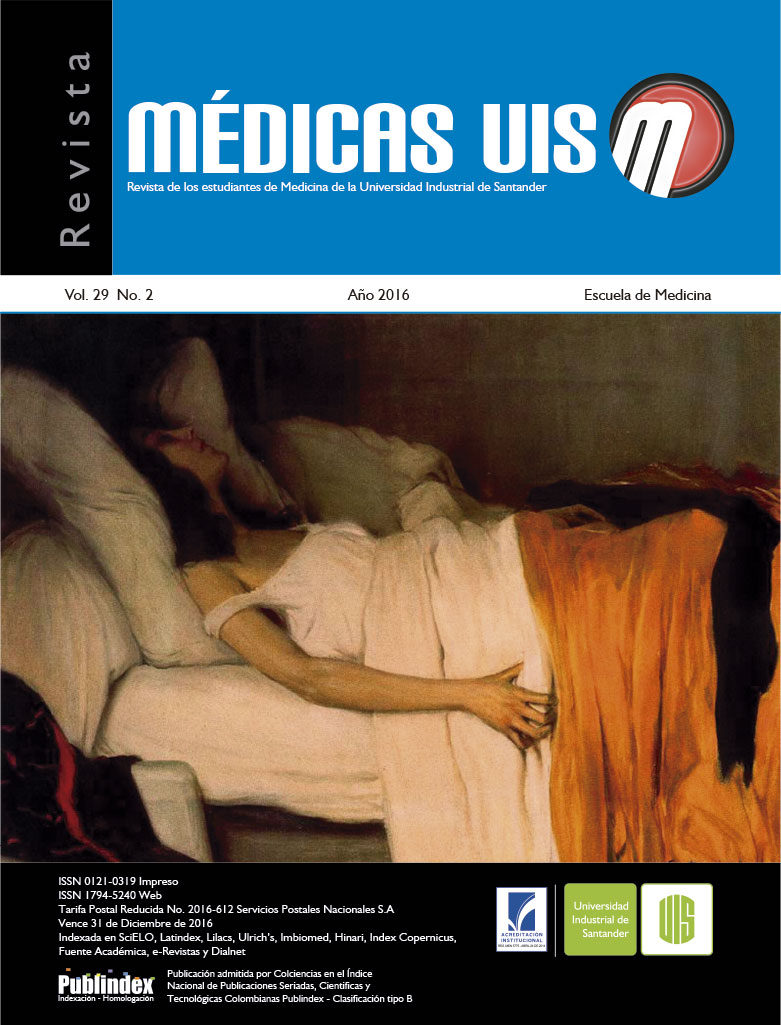 Sección
Artículo original