Costo-efectividad de furoato de mometasona tópica nasal para el tratamiento de la rinosinusitis aguda en México
Kely Rely

Guillermo Salinas

Silvia Martínez

Carlos Pérez

Virginia Blandón

Pierre Alexandre
Resumen
Introducción: La rinosinusitis aguda (RSA) es frecuente en primer nivel de atención y los pacientes pueden mejorar sin antibióticos. Objetivo: Análisis de costo efectividad de furoato de mometasona spray nasal (FMSN) comparado con amoxicilina en tratamiento de rinosinusitis aguda en México desde punto de vista del Sistema Nacional de Salud. Método: Análisis costo-efectividad comparando FMSN 200 mg dos veces al día y amoxicilina 500 mg tres veces al día. Resultados en términos de eficacia modelados como cambios en sistema de Calificación de Síntomas Mayores (MSS por siglas inglés). MSS consiste en cinco preguntas: rinorrea, goteo retro nasal, congestión, cefalea sinusal y dolor facial. Datos clínicos obtenidos de ensayo clínico aleatorizado. Costos expresados en pesos mexicanos 2016. Se realizó análisis de sensibilidad univariable y multivariables para algunos parámetros utilizados en el modelo. Resultados: Los costos proyectados fueron de $3,261 pesos con FMSN y $3,438 pesos con amoxicilina. FMSN fue asociado con ahorro de costos por paciente de $177 pesos comparado con amoxicilina en un periodo de dos semanas. La tasa incremental de costo-efectividad del FMSN lo ubica como dominante frente a amoxicilina. El análisis de sensibilidad confirma los ahorros globales de costos y la superioridad en términos de la eficacia. Conclusión: En pacientes con rinosinusitis aguda, no complicada, el tratamiento del, FMSN 200 mcg dos veces al día, produjo mejoras significativas de los síntomas en comparación con amoxicilina en pacientes sin infecciones bacterianas y es una alternativa costo efectiva para el Sistema Nacional de Salud Mexicano.Palabras clave: Rinosinusitis aguda, rinosinusitis, furoato de mometasona, costo-efectividad, tratamiento, Mexico.Comentario editorial al finalizar el artículo.
Descargas
Descargar los datos que aún no están disponibles
Citas
1. Piccirillo JF. Acute bacterial sinusitis. N Engl J Med. 2004. DOI:351:902-910. 10.1056/NEJMcp035553

2. Hickner JM, Bartlett JG, Besser RE, Gonzales R, Hoffman JR, Sande MA. Principles of appropriate antibiotic use for acute rhinosinusitis in adults: background. Ann Intern Med. 2001; 134(6): 498-505. DOI: 10.7326/0003-4819-134-6-200103200-00017.

3. Secretaría de Salud. Dirección General de Epidemiología. Anuarios de Morbilidad 2015.

4. Secretaría de Salud. Observatorio de los Servicios de Atención Primaria 2012. Dirección General de Evaluación del Desempeño. Secretaría de Salud. México, 2013.

5. Ray NF, Baraniuk JN, Thamer M, Rinehart CS, Gergen PJ, Kaliner S. et al. Healthcare expenditures for sinusitis in 1996: contributions of asthma,rhinitis, and other airway disorders. J Allergy Clin Immunol. 1999; 103(3): 408-414. DOI: doi. org/10.1016/S0091-6749(99)70464-1.

6. Benninger MS, Holzer SES, Lau J. Diagnosis and treatment of uncomplicated acute bacterial rhinosinusitis: summary of the Agency for Health Care Policy and Research evidence-based report.
Otolaryngology-Head and Neck Surgery. 2000;122(1): 1-7.

7. Scadding GK. Other anti‐inflammatory uses of intranasal corticosteroids in upper respiratory inflammatory diseases. Allergy. 2000; 55(s62): 19-23.
DOI: 10.1034/j.1398-9995.2000.055suppl62019.x.

8. Meltzer EO, Hamilos DL, Hadley JA, DC Lanza, Marple BF, Nicklas RN et al. Rhinosinusitis: establishing definitions for clinical research
and patient care. J Allergy Clin Immunol. 2004; 114(6): 155-212. DOI: http://doi.org/10.1016/j.jaci.2004.09.029.

9. Lund VJ. Therapeutic targets in rhinosinusitis: infection or inflammation? The Medscape J Med. 2008; 10(4): 105.

10. Angier E, Willington J, Scadding G, Holmes S, Walker S, Management of allergic and non-allergic rhinitis: a primary care summary of the BSACI guideline. Prim Care Respir J. 2010; 19(3): 217-222.

11. Thomas M, Yawn BP, Price D, Lund V, Mullol J, Fokkens W, et al. EPOS Primary guidelines: European Position Paper on the primary care diagnosis and management of rhinosinusitis and nasal polyps 2007. Prim Care Respir J. 2008; 17(2): 79-89. DOI:10.3132/pcrj.2008.00029.

12. Penagos M, Compalati E, Tarantini F, BaenaCagnani CE, Passalacqua G, Canonica GW. Efficacy of mometasone furoate nasal spray in the treatment of allergic rhinitis. Meta-analysis
of randomized, double-blind, placebo-controlled, clinical trials. Allergy. 2008; 63(10): 1280-1291.
DOI: 10.1111/j.1398-9995.2008.01808.x.

13. Canonica WG, Compalati E, Tarantini F, Passalacqua G, Penagos M. Efficacy of mometasone furoate nasal spray in the treatment of allergic rhinitis: metaanalysis of randomized, double-blind, placebocontrolled clinical trials. J Allergy Clin Immunol.
2008; 121(2): S52.

14. Meltzer EO, Bachert C, Staudinger H. Treating acute rhinosinusitis: comparing efficacy and safety of mometasone furoate nasal spray, amoxicillin, and placebo. J Allergy Clin Immunol. 2005; 116(6): 1289-1295.

15. Rosenfeld R, Andes D, Bhattacharyya N, Cheung D, Eisenberg S, et al. Clinical practice guideline: adult sinusitis. Otolaryngology, Head and Neck Surgery 2007. 137, S1-131.

16. Rosenfeld R, Piccirillo J, Chandrasekhar S, Brook I, Kumar AK, Kramper M. et al. Clinical practice guideline (update): adult sinusitis. Otolaryngol Head Neck Surg. 2015; 152, (2S) S1-39. DOI:10.1177/0194599815572097.

17. Svensson J, Lundberb J, Olsson P, Stjárne P, Tennvall G. Cost effectiveness of mometasone furoate nasal spray in the treatment of acute rhinosinusitis. Prim Care Respir J. 2012; 21(4): 412-418. DOI: 10.4104/pcrj.2012.00085.

18. Guía de práctica clínica diagnóstico y tratamiento de la rinosinusitis aguda en la edad pediátrica, México: Secretaría de Salud, 2010.

19. Chow AW, Benninger MS, Brook I, Brozek JL, Goldstein EJ, Hicks LA, et al. IDSA clinical practice guideline for acute bacterial rhinosinusitis in children and adults. Clin Infect Dis. 2012; 54(8):
e72-e112. DOI: 10.1093/cid/cir1043.

20. Meltzer EO, Gates D, Bachert C. Mometasone furoate nasal spray increases the number of minimalsymptom days in patients with acute rhinosinusitis. Ann Allergy, Asthma Immunol. 2012; 108(4): 275-
279. DOI: 10.1016/j.anai.2012.01.015.

21. Guiscafré-Gallardo H. La atención integral del niño con infección respiratoria aguda: lo apropiado y lo actual. Guías clínicas para disminuir el abuso de antimicrobianos y de sintomáticos, así como
el de evitar que los niños mueran en el hogar por neumonía, después de haber recibido consulta médica. Bol Med Hosp Infant Mex. 2008; 65(4): 249-260.

22.Consejo de Salubridad General. Guía para la conducción de estudios de evaluación económica para la actualización del Cuadro Básico de Insumos del Sector Salud en México. Dirección General Adjunta de Priorización. Comisión interinstitucional del Cuadro Básico de Insumos del Sector Salud. 2008.

23. Lareas-Linnemann D, Mayorga-Butrón JL, Sánchez-González AS, Ramírez -García A, Medina-Ávalos M, Figueroa-Morales MA, et al. ARIA México 2014. Adaptación de la Guía de Práctica Clínica ARIA 2010 para México. Metodología ADAPTE. Rev Alergia Mex. 2014; 61(S1): 3-116.

24. Rodríguez Moreno C, Campoamor Landín F, Zaforteza Dezcallar M, Verdejo González A, Muro Pascual V, Martín Martín MV. Política de antibióticos en atención primaria: la experiencia práctica en un área sanitaria. Aten Primaria. 1998; 21(5): 315-320.

25. Smith RD, Coast J. Antimicrobial resistance: a global response. Bulletin of the World Health Organization. 2002; 80(2): 126-133.
26. Kumar A. Microbial resistance to drugs-a universal problem in urgent need of a comprehensive approach. Nat Med J India. 1997; 10(5): 221-224.

27. Barbosa TM, Levy SB. The impact of antibiotic use on resistance development and persistence. Drug Resist Updat. 2000; 3(5): 303-311. DOI: 10.1054/drup.2000.0167.

28. Nathwani D, Malek M. Cost considerations in the evaluation of new therapies for gram-positive bacteria. Int J Antimicrob Agents. 1999;13(2):71-78.

29. Chrischilles EA, Scholz DA. Dollars and sense: a practical guide to cost analysis for hospital epidemiology and infection control. Clin Perform Qual Health Care. 1999; 7(2): 107-111.

30. Giske CG, Monnet DL, Cars O, Carmeli Y. Clinical and economic impact of common multidrugresistant gram-negative bacilli. Antimicrob Agents Chemother. 2008; 52(3): 813-21. DOI: 10.1128/
AAC.01169-07.

31. World Health O. The Rational Use of Drugs. Report of the Conference of Experts 1985. Geneva: WHO; 1987. Either first page or author must be supplied.

32. World Health O. How to develop and implement a national drug policy: World Health Organization; 2001.

33. Origlieri C, Bielory L. Intranasal corticosteroids and allergic rhinoconjunctivitis. CurrenT Opin Allergy Clin Immunol. 2008; 8(5): 450-456. DOI: 10.1097/ACI.0b013e32830d8501.

34. World Health O. Comparative analysis of national drug policies in 12 countries; 1996.

35. World Health O. WHO policy perspectives on medicines: promoting rational use of medicines: core components. Geneva: WHO; 2002 Sep: WHO/EDM;2002.

36. Lange B, Lukat KF, Rettig K, Holtappels G, Bachert C. Efficacy, cost-effectiveness, and tolerability of mometasone furoate, levocabastine, and disodium cromoglycate nasal sprays in the treatment of seasonal allergic rhinitis. Ann Allergy, Asthma
Immunol. 2005; 95(3): 272-282.
DOI: 10.1016/S1081-1206(10)61225-2.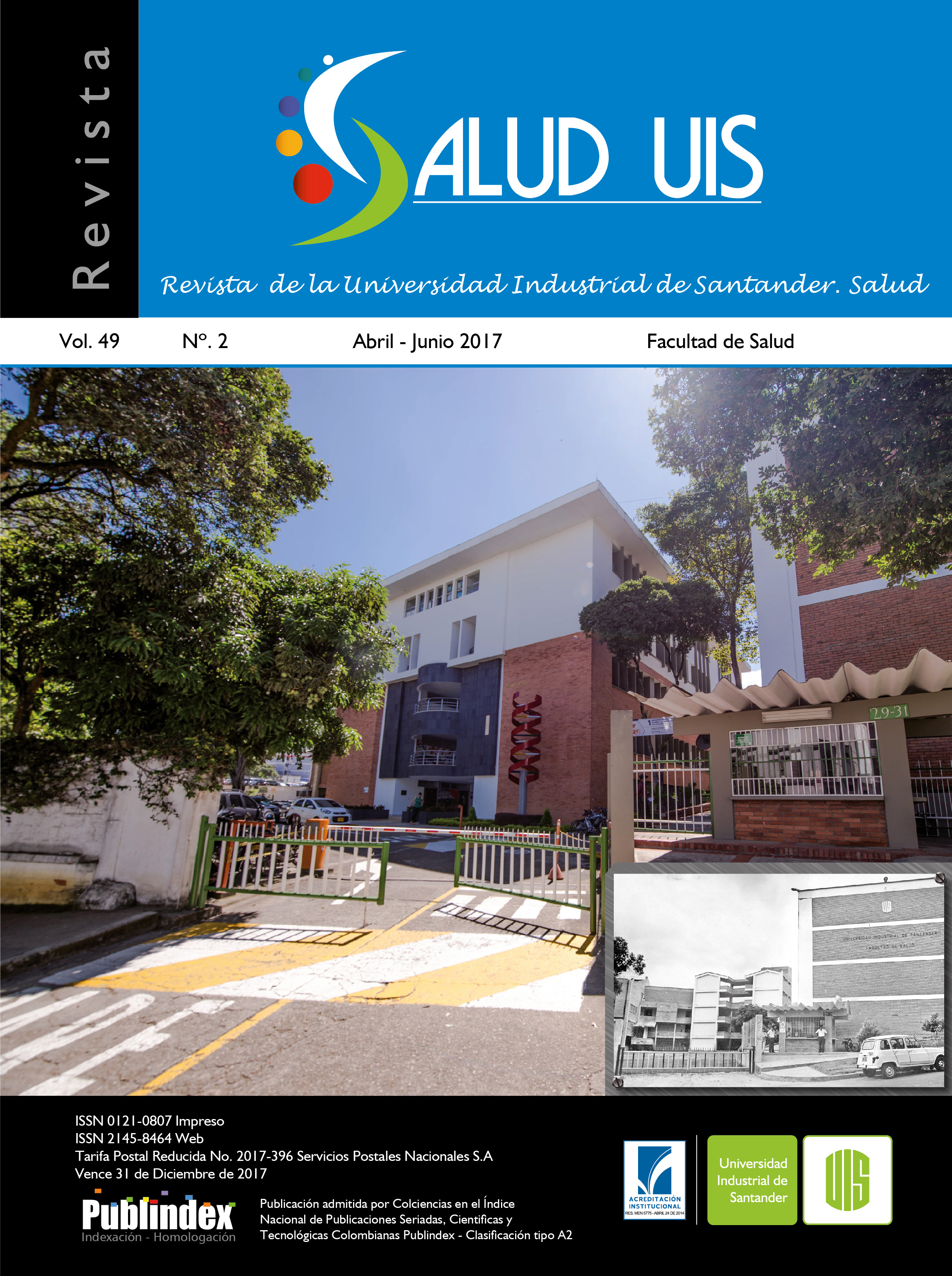 Sección
Artículos Científicos