Complejidad en modelos conceptuales de procesos de negocios. Propuesta de métricas de calidad de modelos conceptuales de procesos
Ricardo Méndez-L

Universidad Católica del Maule

Angélica Urrutia

Universidad Católica del Maule
Resumen
Los procesos de negocios constituyen un factor clave para el éxito las organizaciones, actualmente el interés en los procesos de negocios por parte de las organizaciones ha crecido de la mano del surgimiento de un sin número de herramientas para el modelado. Analistas, ingenieros de procesos y de software consideran el modelo conceptual de procesos como un insumo que ayuda a la visibilidad, comprensión del negocio e implementación tecnológica, sin embargo, no hay un consenso respecto de que constituye un modelo de procesos de calidad. En este trabajo tiene como propósito contribuir en el estudio de calidad de los modelos conceptuales de procesos desde la perspectiva de la complejidad, se pretende establecer que la complejidad de los modelos afecta el entendimiento de los procesos, dificulta su adaptación y posterior implementación. Actualmente, existen trabajos relacionados con el estudio de la complejidad de los modelos de procesos, En este trabajo se pretende contribuir en el desarrollo de esta dimensión de la calidad de los modelos procesos, centrado en el estudio de casos reales de modelos de procesos en notación BPMN. Se proponen algunas métricas para medir la complejidad de los modelos procesos, y como estas nuevas mediciones inciden en el entendimiento y comprensión de los mismos.
Palabras clave:
BPMN, Modelado de procesos, Complejidad, Métrica, Procesos de negocios
Descargas
La descarga de datos todavía no está disponible.
Citas
[1] Muketha, G.M., Ghani, A.A.A., Selamat, M.H., and Atan, R. (2010). "A Survey of Business Process Complexity Metrics. In Information Technology" Journal
9.7, 1336-344.

[2] Indulska Marta, Zur, Muehlen, Recker J "Measuring Method Complexity: The Case of the Business Process Modeling Notation.",2009

[3] Cardoso J. "Control-flow Complexity Measurement of Processes and Weyuker's Properties", 2007

[4] Cardoso J, Mendling, Neumann, and Reijers H.A. "A Discourse on Complexity of Process Models" 2006.

[5] Figl Kathrin, Laue R. "Cognitive Complexity in Business Process Modeling" 2011.

[6] Reijers, H.A., Mendling, J., and Recker, J. (2010). Business Process Quality Management, In Handbook on Business Process Management, 167-185.

[7] ISO/IEC 25000:2005, Software Engineering Soft ware Product Quality Requirements and Evaluation (SQuaRE) Guide to SQuaRE, 2005

[8] Lindsay, A., and Lunn, K. "Business processes attempts to find a definition. In Information and Software Technology, 45 (15), 1015-1019. (2003).

[9] Guceglioglu, A.S., and Demiros, O. "Using Software Quality Characteristics to Measure Business Process Quality". Proceedings of the 3rd International Conference on Business Process Management (BPM 2005), Lecture Notes in Computer Science 3649, pages 374-379, 2005.

[10] Mendling, J. Testing Density as a Complexity Metric for EPcs. German EPC workshop on density of process models, 2006. http://wi.wuwien.ac.at/home/mendling/publications/TR06-density.pdf

[11] Reijers, H.A., and Vanderfeesten, I. Cohesion and Coupling Metrics for Workflow Process Design. In: Desel, J., Pernici, B., and Weske, M., editors, Business
Process Management (BPM 2004), Lecture Notes in Computer Science, volume 3080, pages 290-305, Springer-Verlag Berlin, 2004.

[12] Cardoso J, Vanderfeesten I, Reijers R. "Computing coupling for business process models".

[13] Gruhn, V., and Laue, R. "Complexity metrics for business process models". In: Witold Abramowicz and Heinrich C. Mayr, editors, 9th international conference on business information systems (BIS 2006), volume 85 of Lecture Notes in Informatics, pages 1-12, 2006.

[14] Krzysztof Kluza, Grzegorz J. Nalepa "Proposal of Square Metrics for Measuring Business Process Model Complexity" IEEE, 2011

[15] W. Khlif, N. Zaaboub, and H. Ben-Abdallah, "Coupling metrics for business process modeling," International Journal of Computers, vol. 4, no. 4, 2010.

[16] Latva-Koivosto, A.M. "Finding a complexity measure for business process models". Helsinki University of Technology, Systens Analysis Laboratory, 2001.

[17] Henrik Leopold, Mendling Jan, Reijers Hajo A, La Rosa Marcelo "Simplifying Process Model Abstraction: Techniques for Generating Model Names",2014

[18] Mendling J, Reijers H. A., and van der Aalst, "Seven process modeling guidelines (7pmg)," Information & Software Technology, vol. 52, no. 2, pp. 127–136, Feb 2010.

[19] Henrik Leopold, Sergey Smirnov, Jan Mendling. "Recognising Activity Labeling Styles in Business Process Models" Enterprise Modelling and Information Systems Architectures Vol. 6, No. 1, February 2011.

[20] Fowler Martin, Beck Kent, Brant John, Opdyke William, Roberts Don, "Refactoring: Improving the Design of Existing Code" 1999.

[21] Bravo C. Juan, "Gestión de Procesos con responsabilidad social", pag. 33-37. 2009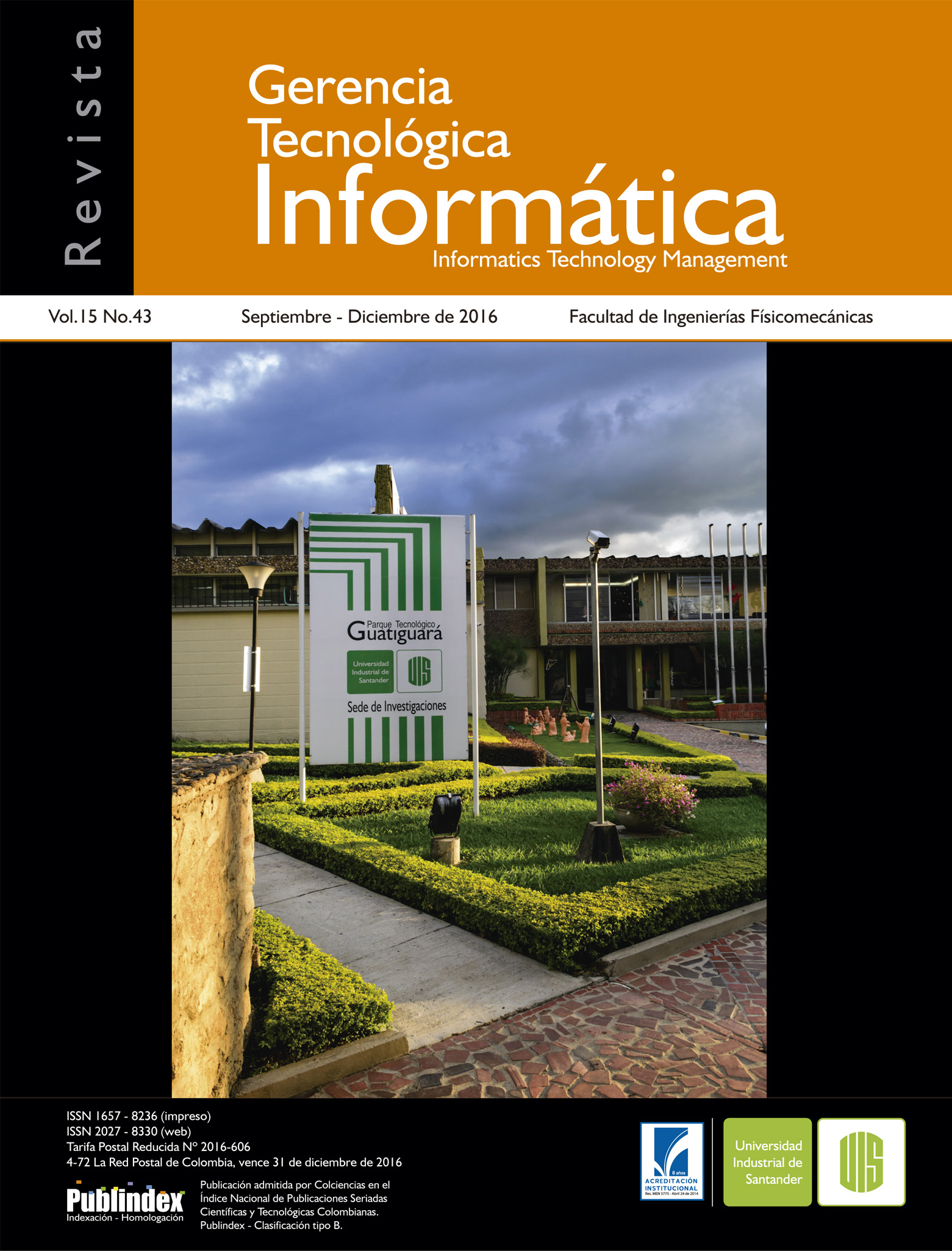 Esta obra está bajo licencia internacional
Creative Commons Reconocimiento 4.0
.