El modelo darwinista del derecho: una interpretación organicista del primer Roscoe Pound
Víctor Manuel Saucedo Maqueda

Universidad de Huelva
Resumen
Si bien Roscoe Pound tiene su lugar en la historia del pensamiento jurídico gracias a su sociological jurisprudence, el organicismo jurídico de sus primeros trabajos es menos conocido. En este artículo, se rastreará aquel en la formación botánica de Pound. Se verá cómo se diferencia del organicismo clásico y cómo se integra en el debate sobre las fuentes del derecho en la tradición del common law. Finalmente, se propondrá una interpretación en clave darwinista de dicho organicismo jurídico de sus primeros escritos.
Palabras clave:
sociological jurisprudence, darwinismo, organicismo juridico, fuentes jurídicas, ciencia del derecho, historia
Descargas
La descarga de datos todavía no está disponible.
Referencias
Austin, J. (2003). The Province of Jurisprudence Determined. New Jersey: The Law-book Exchange.

Arjona, C. (2003) Afinidades entre Dworkin y Pound. Un breve estudio sobre las in-fluencias y coincidencias. Doxa: Cuadernos de Filosofía del Derecho, 26, 387-417.

Bosselman, F. P. y Tarlock, A. D. (1994). The Influence of Ecological Science on Amer-ican Law: An Introduction. Chicago-Kent Law Review, 69, 847-873.

Bowler, P. J. (1995). Charles Darwin: el hombre y su influencia. Madrid: Alianza.

Casanovas, P. y Moreso, J. J. (1994). El ámbito de lo jurídico: lecturas de pensamiento jurídico contemporáneo. Barcelona: Crítica.

De Castro y Bravo, F. (1950). Notas críticas: En torno a una traducción. La "Common Law". Roscoe Pound. Anuario de derecho civil, (3), 749-758.

Deflem, M. y Botero-Bernal, A. (2006). Jurisprudencia sociológica y sociología del de-recho. Opinión Jurídica, 5(10), 107-119.

Elliott, E. D. (1985). The Evolutionary Tradition in Jurisprudence. Columbia Law Re-view, 85, 38-94.

Fassò, G. (1981). Historia de la filosofía del derecho vol. 2. (J. F. Lorca Navarrete, trad.). Madrid: Ediciones Pirámide.

Fox, J. (1900). Law and Logic. Harvard Law Review, 14(1), 39-43.

Frankfurter, F. (1931). The Early Writings of O. W. Holmes, Jr. Harvard Law Review, 44(5), 717-827.

Frederickson, M. E. & Bronstein, J. L. (2016). From Lichens to the Law: Cooperation as a Theme in the Diverse Career of Roscoe Pound. The American Naturalist, 188(5), ii-iii.

Friedman, L. M. (2002). American Law in the 20th Century. New Haven: Yale Universi-ty Press.

García-Ruiz, L. (1997). Aproximación al concepto de Derecho de Roscoe Pound. Per-sona y derecho: Revista de fundamentación de las Instituciones Jurídicas y de Derechos Humanos, (36), 47-94.

García-Ruiz, L. (2002). Derecho, intereses y civilización. El pensamiento jurídico de Roscoe Pound. Granada: Comares.

Gray, J. C. (1909). The Nature and Sources of the Law. New York: The Columbia Uni-versity Press.

Herget, J. E. (1990). American Jurisprudence, 1870-1970: A History. Houston: Rice University Press.

Hill, M. (1988). Roscoe Pound and the "Seminarium Botanicum" at the University of Nebraska, 1888-1889. Transactions of the Nebraska Academy of Sciences and Af-filiated Societies, XVI, 185-190.

Holmes Jr., O. W. (1897). The Path of the Law. Harvard Law Review, 10(8), 457-478.

Holmes, O. W. (1899). Law in Science and Science in Law. Harvard Law Review, 12(7), 443-463.

Horwitz, M. J. (1992). The Transformation of American Law, 1870-1960: The Crisis of Legal Orthodoxy. New York: Oxford University Press.

Hovenkamp, H. (1985). Evolutionary Models in Jurisprudence. Faculty Scholarship at Penn Law, 64(4), 645-685.

Hull, N. E. H. (1997). Roscoe Pound and Karl Llewellyn: Searching for an American Jurisprudence. Chicago: University of Chicago Press.

Kohler, J. (1910). Filosofía del derecho e historia universal del derecho. Madrid: Librería General de Victoriano Suárez.

Lasser, M. (2002). Comparative Readings of Roscoe Pound's Jurisprudence. American Journal of Comparative Law, 50(4), 719-752.

Maine, H. S. (1871). Village-Communities in the East and West. Six Lectures Delivered at Oxford. London: John Murray, Albemarle Street.

Maine, H. S. (1986). Ancient law: its connection with the early history of society, and its relation to modern ideas. Tucson: University of Arizona Press.

Petit, C. (1991). "A Contributor to the Method of Investigation". Sobre la Fortuna de Gény en America. Quaderni Fiorentini per la storia del pensiero giuridico mo-derno, 20(1), 201-269.

Petit, C. (2003). Harvard en Lyon. Lecturas de Roscoe Pound en el Institut Lambert. En A. Botero & S. Estrada (eds.). Temas de filosofía del derecho (pp. 183-239). Medellín, Colombia: Editorial Universidad de Medellín.

Petit, C. (2007). Lombroso en Chicago. Presencias europeas en la "Modern Criminal Science" americana. Quaderni Fiorentini per la storia del pensiero giuridico mo-derno, 36(2), 801-900.

Pound, R. (1893). Symbiosis and mutualism. The American Naturalist, 27(318), 509-520.

Pound, R. (1904). A New School of Jurists. University Studies, 4(3), 249-266.

Pound, R. (1905a). Decadence of Equity. Columbia Law Review, 5, 20-35.

Pound, R. (1905b). Do We Need a Philosophy of Law? Columbia Law Review, 5, 339-353.

Pound, R. (1906). The Causes of Popular Dissatisfaction with the Administration of Justice. American Law Review, 40, 729-749.

Pound, R. (1921). The Spirit of the Common Law. Francestown, New Hampshire: Mar-shall Jones Company.

Pound, R. (1950). Las grandes tendencias del pensamiento jurídico. (J. Puig Brutau, trad.). Barcelona: Ariel.

Pound, R. (1954). El espíritu del "Common Law". (J. Puig Brutau, trad.). Barcelona: Bosch.

Pound, R. (2004). Evolución de la libertad: el desarrollo de las garantías constituciona-les de la libertad. Granada: Comares.

Pound, R. & Clements, F. E. (1900). Phytogeography of Nebraska. Lincoln: University of Nebraska Botanical Seminar.

Ryan, F. (2002). Darwin's Blind Spot: Evolution Beyond Natural Selection. Boston: Houghton Mifflin Harcourt.

Sayre, P. (1948). The Life of Roscoe Pound. Iowa: State University of Iowa.

Tarello, G. (1988). Cultura giuridica e politica del diritto. Bolonia: II Mulino.

Thayer, E. R. (1891). Judicial Legislation Its Legitimate Function in the Development of the Common Law. Harvard Law Review, 5, 172-201.

Von Savigny, F. C. (2015). De la vocación de nuestra época para la legislación y la ciencia del Derecho. (J. Díaz García, trad.). Madrid: Universidad Carlos III de Madrid.

Walter, E. V. (1949). Legal Ecology of Roscoe Pound. Miami Law Quarterly, 4, 178-207.

Wigdor, D. (1974). Roscoe Pound: Philosopher of Law. Westport: Greenwood Press.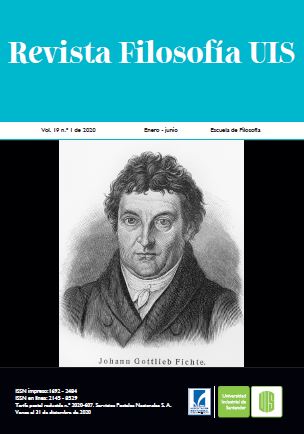 Esta obra está bajo licencia internacional
Creative Commons Reconocimiento 4.0
.