Evaluación de las características de un residuo de la industria del vidrio para encapsular materiales peligrosos
Maira Alejandra Narváez-Legarda

Universidad Nacional de Colombia

Luisa Fernanda Mosquera-Idrobo

Universidad Nacional de Colombia

Janneth Torres-Agredo

Universidad Nacional de Colombia
Resumen
Actualmente, existe una gran problemática ambiental por la generación de residuos sólidos, muchos de éstos se clasifican como peligrosos; por lo cual han surgido múltiples tecnologías para su tratamiento, entre las que se destaca la vitrificación. Esta tecnología permite incorporar los elementos peligrosos de un residuo dentro de una matriz vítrea; por lo tanto, se requiere de un agente vitrificante o formador de vidrio (sílice, SiO2). El objetivo de este trabajo fue evaluar las características químicas y físicas de un residuo de arena, con el fin de emplearlo como agente vitrificante. El residuo de arena del presente estudio, proviene de una industria de vidrio colombiana y su generación es de 120 toneladas mensuales. Se realizó la caracterización del residuo en cuanto al tamaño de partícula, densidad, morfología, composición química y mineralógica. Finalmente, se concluye que el residuo tiene características de agente vitrificante; además, presenta un gran potencial para ser aprovechado en diferentes aplicaciones.
Palabras clave:
aprovechamiento, residuo de arena, residuos industriales, vitrificación, encapsulación
Descargas
La descarga de datos todavía no está disponible.
Citas
[1] W. Cai, C. Liu, C. Zhang, M. Ma, W. Rao, W. Li, K. He y M. Gao, "Developing the ecological compensation criterion of industrial solid waste based on emergy for sustainable development", Energy, vol. 157, pp. 940-948, 2018. doi: 10.1016/j.energy.2018.05.207

[2] B. Guo, B. Liu, J. Yang y S. Zhang, "The mechanisms of heavy metal immobilization by cementitious material treatments and thermal treatments: A review", Journal of Environmental Management, vol. 193, pp. 410-422, 2017. doi: 10.1016/j.jenvman.2017.02.026

[3] E. Bernardo, G. Scarinci y P. Colombo, "Vitrification of Waste and Reuse of Waste-Derived Glass", Encyclopedia of Sustainability Science and Technology, pp. 11581-11613, 2012.

[4] P. Colombo, G. Brusatin, E. Bernardo y G. Scarinci, "Inertization and reuse of waste materials by vitrification and fabrication of glass-based products", Current Opinion in Solid State and Materials Science, vol. 7, no. 3, pp.225-239, 2003. doi: 10.1016/j.cossms.2003.08.002

[5] S. Çoruh y O. Ergun, "Leaching characteristics of copper flotation waste before and after vitrification", Journal of Environmental Management, vol. 81, no. 4, pp. 333–338, 2006. doi: 10.1016/j.jenvman.2005.11.006.

[6] E. Bernardo, "Fast sinter-crystallization of a glass from waste materials", Journal of Non-Crystalline Solids, vol.354, no. 29, pp.3486–3490, 2008. doi: https://doi.org/10.1016/j.jnoncrysol.2008.03.021

[7] S. Ali, A. Mohd y H. Mansor, "Toxicity immobilization of refinery sludge containing heavy metals via vitrification process", International Journal of Research in Engineering and Technology, vol. 02, no. 10, pp.153-157, 2013. doi: 10.15623/ijret.2013.0210021

[8] S. Varitis, P. Kavouras, E. Pavlidou, E. Pantazopoulou, G. Vourlias, K. Chrissafis, A. Zouboulis, T. Karakostas y P. Komninou, "Vitrification of incinerated tannery sludge in silicate matrices for chromium stabilization", Waste management, vol. 59, pp. 237-246, 2017. doi: 10.1016/j.wasman.2016.10.011

[9] X. Elias, Residuos vitrificables, Madrid: Ediciones Díaz de Santos, 2012.

[10] D. Bortoluzzi, L. Rodrigues y A. Bernardin, "Inertization of coal ashes by the vitrification technique: a mixture design approach", Mineral Processing & Extractive Metall, vol. 34, pp. 202–209, 2013. doi: 10.1080/08827508.2012.656778

[11] M. Binhussain, M. Marangonib, E. Bernardob y P. Colombo, "Sintered and glazed glass-ceramics from natural and waste raw materials", Ceramics International, vol. 40, pp. 3543–3551, 2014. doi: 10.1016/j.ceramint.2013.09.074

[12] G. Khater, "The use of Saudi slag for the production of glass-ceramic materials", Ceramics International, vol. 28, pp. 59–67, 2002. doi: 10.1016/S0272-8842(01)00058-X

[13] L. Barbieri, I. Lancellotti, T. Manfredini, I. Queralt, J. Rincon y M. Romero, "Design, obtainment and properties of glasses and glass–ceramics from coal fly ash", Fuel, vol. 78, no. 2, pp. 271-276, 1999. doi: 10.1016/S0016-2361(98)00134-3

[14] V. Gomes, C. D. G. De Borba, y H. G. Riella, "Production and characterization of glass ceramics from steelwork slag", J. Mater. Sci., vol. 37, no. 12, pp. 2581–2585, 2002. doi: 10.1023/A:1015468329645

[15] S. Hreglich, R. Falcone, G. Nassetti y G. Gattelli, "Inertisation of slags from the treatment of end of life automotive batteries and their reuse in the production of heavy clay products with soundproofing properties", Glass Technology-European Journal of Glass Science and Technology Part A, vol. 49, no. 6, pp. 313-316, 2008.

[16] M. Pelino, "Recycling of zinc-hydrometallurgy wastes in glass and glass ceramic materials", Waste Management, vol. 20, no. 7, pp. 561–568, 2000. doi: 10.1016/S0956-053X(00)00002-7

[17] J. Faber y T. Fawcett, "The powder diffraction file: present and future", Acta Crystallographica Section B: Structural Science, vol. 58, no. 3, pp. 325-332, 2002. doi: 10.1107/S0108768102003312

[18] M. Morris, H. McMurdie, E. Evans, B. Paretzkin, H. Parker, y N. Panagiotopoulos, "Section 18 - Data for 58 substances", en Standard X-ray diffraction powder patterns, Washington, CD, 1981, pp. 1–105.

[19] T. Naik, S. Singh y B. Ramme, "Performance and leaching assessment of flowable slurry". Journal of Environmental Engineering, vol. 127, no. 4, pp. 359-368, 2001. doi: 10.1061/(ASCE)0733-9372(2001)127:4(359)

[20] R. Siddique, Y. Aggarwal, P. Aggarwal, E. Kadri y R. Bennacer, "Strength, durability, and micro-structural properties of concrete made with used-foundry sand (UFS)", Construction and Building Materials, vol. 25, no. 4, pp. 1916-1925, 2011. doi: 10.1016/j.conbuildmat.2010.11.065

[21] G. Singh, "Strength and Durability Studies of Concrete Containing Waste Foundry Sand", Disertación doctoral, Departamento de Ingeniería Civil, Thapar University, Patiala, India, 2012. doi: 10.13140/RG.2.2.18035.94240

[22] H. M. Basar y N. Deveci Aksoy, "The effect of waste foundry sand (WFS) as partial replacement of sand on the mechanical, leaching and micro-structural characteristics of ready-mixed concrete", Constr. Build. Mater., vol. 35, pp. 508–515, 2012. doi: 10.1016/j.conbuildmat.2012.04.078

[23] P. Iloh, G. Fanourakis y A. Ogra, "Evaluation of Physical and Chemical Properties of South African Waste Foundry Sand (WFS) for Concrete Use". Sustainability, vol. 11, no. 1, pp. 193, 2019. doi: 10.3390/su11010193

[24] A. Deng y P. J. Tikalsky, "Geotechnical and leaching properties of flowable fill incorporating waste foundry sand", Waste Manag., vol. 28, n.o. 11, pp. 2161–2170, 2008. doi: 10.1016/j.wasman.2007.09.018

[25] M. Groover, Fundamentos de manufactura moderna: materiales, procesos y sistemas, México: Pearson Educación, 1997.

[26] J. Fernández, El Vidrio, Madrid: CSIC-CSIC press, 2003.

[27] O. Shalygina, G. Voronov, N. Kuryakin, A. Guzevataya y M. Gozha, "Increasing the energy efficiency of container-glass production by using mineral raw materials", Glass and Ceramics, vol. 73, pp. 170-174, 2016. doi: 10.1007/s10717-016-9849-0

[28] F. Pahlevani y V. Sahajwalla, "From waste glass to building materials–An innovative sustainable solution for waste glass", Journal of cleaner production, vol. 191, pp. 192-206, 2018. doi: 10.1016/j.jclepro.2018.04.214

[29] X. Fu, Y. Wang, S. Huang, X. Hou y W. Hou, "The influences of siliceous waste on blended cement properties", Cement and Concrete Research, vol. 33, no. 6, pp. 851–856, 2003. doi: 10.1016/S0008-8846(02)01095-5

[30] Y. Guney, Y. Sari, M. Yalcin, A. Tuncan y S. Donmez, "Re-usage of waste foundry sand in high-strength concrete", Waste Management, vol. 30, no. 8-9, pp. 1705-1713, 2010.

[31] M. Etxeberria, C. Pacheco, J. M. Meneses, y I. Berridi, "Properties of concrete using metallurgical industrial by-products as aggregates", Constr. Build. Mater., vol. 24, n.o. 9, pp. 1594–1600, 2010.

[32] L. Gupta y A. Vyas, "Impact on mechanical properties of cement sand mortar containing waste granite powder", Constr. Build. Mater., vol. 191, pp. 155-164, 2018. doi: 10.1016/j.conbuildmat.2018.09.203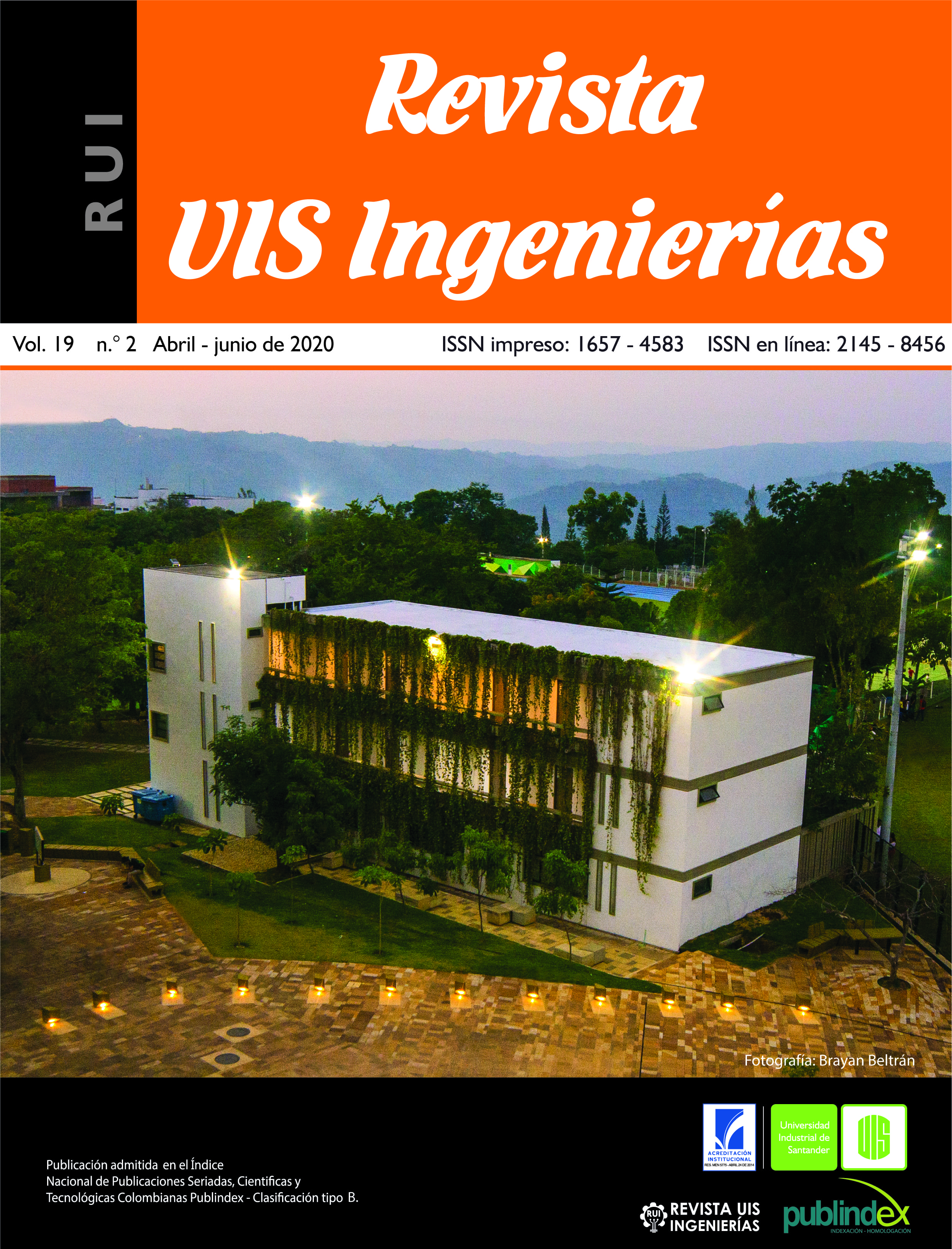 Esta obra está bajo licencia internacional
Creative Commons Reconocimiento-SinObrasDerivadas 4.0
.

Los autores conservan los derechos de autor y ceden a la revista el derecho de la primera publicación, con el trabajo registrado bajo la Licencia Creative Commons Atribución-NoDerivadas 4.0 Internacional. que permite a terceros utilizar lo publicado siempre que mencionen la autoría del trabajo y a la primera publicación en la Revista UIS Ingenierías.


Los autores pueden realizar otros acuerdos contractuales independientes y adicionales para la distribución no exclusiva de la versión del artículo publicado en esta revista (p. ej., incluirlo en un repositorio institucional o publicarlo en un libro) siempre que indiquen claramente que el trabajo se publicó por primera vez en la Revista UIS Ingenierías.