Pacientes con dolor pélvico crónico intervenidas por laparoscopia en el Hospital Universitario de Santander, 2010-2013
Janer Sepúlveda-Agudelo

UNIVERSIDAD INDUSTRIAL DE SANTANDER

Juan Sebastián Fuentes-Porras

UNIVERSIDAD INDUSTRIAL DE SANTANDER
Resumen
Introducción: el dolor pélvico crónico es un problema importante por su frecuencia y morbilidad, tiene una prevalencia del 3.8%, es considerado una de las principales indicaciones para histerectomía y realización de laparoscopia. Por otro lado, es adecuado seleccionar las pacientes que se beneficien de una laparoscopia. Objetivo: describir las características clínicas, hallazgos intraoperatorios, y complicaciones quirúrgicas de las pacientes con diagnóstico de dolor pélvico crónico a quienes se les realizó laparoscopia diagnóstica y/o terapéutica, en el Hospital Universitario de Santander, entre los meses de junio 2010 a diciembre de 2013.  ateriales y métodos: se realizó un estudio retrospectivo descriptivo y de corte transversal. El plan de análisis se realizó en el software STATA 12.0 con un nivel de significancia del 5%. Resultados: la población fue conformada por 41 mujeres, el enfoque terapéutico inicial realizado fue analgésico (55,3%), en menor proporción hormonal (29%), sin embargo, en el 70% de los casos se inició un tratamiento combinado, al no  resentar respuesta en ninguna de las pacientes se realizó procedimiento quirúrgico, encontrando como principales causas de dolor pélvico crónico, masas anexiales 51,2% y adherencias densas 41,5%. Conclusiones: se debe hacer una mejor aproximación diagnóstica para utilizar de manera óptima los recursos disponibles, finalmente se evidencia como la laparoscopia es de gran utilidad para el manejo de  ndometriosis y síndrome adherencial. MÉD.UIS.2020;33(2):25-32. 
Palabras clave:
Dolor pélvico, Laparoscopia, Endometriosis, Dolor crónico
Descargas
La descarga de datos todavía no está disponible.
Referencias
ACOG Committee on Practice Bulletins--Gynecology. ACOG Practice Bulletin No. 51. Chronic pelvic pain. Obstet ynecol. 2004; 103 (3): 589-605.

Fuentes JS, Sepúlveda J. Abordaje integral del dolor pélvico crónico: revisión de la literatura. Rev Chil Obstet Ginecol. 2014; 79(4): 330- 339.

Green IC, Cohen SL, Finkenzeller D, Christo PJ. Interventional Therapies for Controlling Pelvic Pain: What is the Evidence?. Curr Pain Headache Rep 2010; 14(1): 22–32.

Vercellini P, Somigliana E, Viganò P, Abbiati A, Barbara G, Fedele L. Chronic pelvic pain in women: etiology, athogenesis and diagnostic approach. Gynecol Endocrinol. 2009; 25(3): 149-58.

Fall M, Baranowski AP, Elneil S, Engeler D, Hughes J, Messelink EJ, et al. EAU Guidelines on Chronic Pelvic Pain. Eur Urol. 2010; 57(1): 35-48.

Ayorinde AA, Bhattacharya S, Druce KL, Jones GT, Macfarlane GJ. Chronic pelvic pain in women of reproductive and postreproductive age: a population-based study. Eur J Pain. 2017; 21(3): 445-455.

González PA, Ruiz JI, Cubillana PL, Iñiguez GD, Morcillo JC, Albacete MP. Alternativa terapéutica para el dolor pélvico crónico de origen vesical. Actas urológicas españolas. 2009; 33(6): 681-685.

Howard FM. Chronic Pelvic Pain. Obstet Gynecol. 2003; 101(3): 594–611.

Yunker A, Sathe NA, Reynolds WS, Likis FE, Andrews J. Systematic review of therapies for noncyclic chronic pelvic
ain in women. Obstet Gynecol Surv. 2012; 67(7): 417-25.

Miller D. Keep a low threshold in diagnosing PID. Patient Care. 2000; 34(10): 75.

Guerrero AM, Gómez MP. VIII Estudio Nacional de Dolor 2014. Prevalencia del Dolor Crónico en Colombia Internet]. Colombia; 2014. Disponible en: https://dolor.org.co/biblioteca/encuestas/ VIII%20Estudio%20Prevalencia%20dolor%20cronico%20 n%20colombia%20publicacion%20pagina%20ACED%202014. pdf

Zubor P, Szunyough N, Galo S, Biringer K, Dókus K, Visnovský J, et al. Laparoscopy in Chronic pelvic pain - a prospective clinical study. Ceska Gynecol. 2005; 70(3): 225-31.

Clemons JL, Arya LA, Myers DL. Diagnosing interstitial cystitis in women with chronic pelvic pain. Obstet Gynecol. 2002; 100(2): 337-41.

Speer LM, Mushkbar S, Erbele T. Chronic Pelvic Pain in Women.Am Fam Physician. 2016; 93(5): 380-7.

Price J, Farmer G, Harris J, Hope T, Kennedy S, Mayou R. Attitudes of women with chronic pelvic pain to the gynaecological consultation: a qualitative study. BJOG. 2006; 113(4): 446-52.

Tu FF, Holt J, Gonzales J, Fitzgerald CM. Physical therapy evaluation of patients with chronic pelvic pain: a ontrolled study. Am J Obstet Gynecol. 2008; 198(3): 272.e1-272.e7.

Shelkey J, Huang C, Karpa K, Singh H, Silvis M. Case report: Pelvic Congestion Syndrome as an Unusual Etiology for Chronic Hip Pain in 2 Active, Middle-age Women. Sports Health. 2014; 6(2): 145-8.

Gelbaya TA, El-Halwagy HE. Focus on Primary Care: Chronic Pelvic Pain in Women. Obstet Gynecol Surv. 2001; 6(12): 757- 64.

Derasari MD. Taxonomy of pain syndromes: classification of chronic pain syndromes. En: Raj PP, Abrams BM, Benson HT, et al., eds. Practical Management of Pain. 3rd ed. St. Louis: Mosby, Inc; 2000. 10-16.

Tirlapur SA, Daniels JP, Khan KS. Chronic pelvic pain: how does noninvasive imaging compare with diagnostic laparoscopy?. Curr Opin Obstet Gynecol. 2015; 27(6): 445-8.

Howard FM. The role of laparoscopy in the chronic pelvic pain patient. Clin Obstet Gynecol 2003; 46(4): 749-66.

Latthe P, Mignini L, Gray R, Hills R, Khan K. Factors predisposing women to chronic pelvic pain: systematic review. BMJ. 2006; 332(7544): 749-55.

Hebbar S, Chawla C. Role of Laparoscopy in evaluation of chronic pelvic pain. J Minimal Access Surg. 2005;1(3): 116-20.

Metler L, Alhujicily M. Role of laparoscopy in inidentifying the clinical significance and cause of adhesions and hronic pelvic pain: a retrospective review at the Kiel school of Gynecological Endoscope. JSLS. 2007;11(3):303-8.

Zondervan K, Barlow DH. Epidemiology of chronic pelvic pain. Baillieres Best Pract Res Clin Obstet Gynaecol. 2000;14(3):403- 414. Steege JF. Dolor pélvico crónico. México, DF: McGraw-Hill ompanies; 2000.

Behera M, Vilos G, Hollett-Caines J, Abu-Rafea B, Ahmad R. Laparoscopic findings, histopathologic evaluation, and linical outcomes in women with chronic pelvic pain after hysterectomy and bilateral salpingo-oophorectomy. J Minim nvasive Gynecol. 2006;13(5):431-435.

Criollo C, Romero N, Salazar O, Briceño F, Navarro H, Herrera J. Características ginecológicas y psicosociales del dolor pélvico crónico. Rev Colomb Obstet Ginecol. 2004;55(2):129-135.

Fall M, Baranowski A, Elneil S, Engeler D, Hughes J, Messelink E, et al. EAU Guidelines on Chronic Pelvic Pain. Eur urol. 2010;57(1):35-48.

Stones W, Cheong YC, Howard FM, Singh S. Interventions for treating chronic pelvic pain in women. Cochrane Database Syst Rev. 2005; Issue 2. Art. No.: CD000387.

Van den Beukel BA, de Ree R, van Leuven S, Bakkum EA, Strik C, van Goor H, et al. Surgical treatment of adhesion-related chronic abdominal and pelvic pain after gynaecological and general surgery: a systematic review and meta-analysis. Hum Reprod Update. 2017;23(3):276-288.

Farquhar CM, Steiner CA. Hysterectomy rates in the United States 1990-1997. Obstet Gynecol. 2002;99(2):229-34.

Gunter J. Chronic Pelvic Pain: An Integrated Approach to Diagnosis and Treatment. Obstet Gynecol Surv. 2003; 58(9):615-23.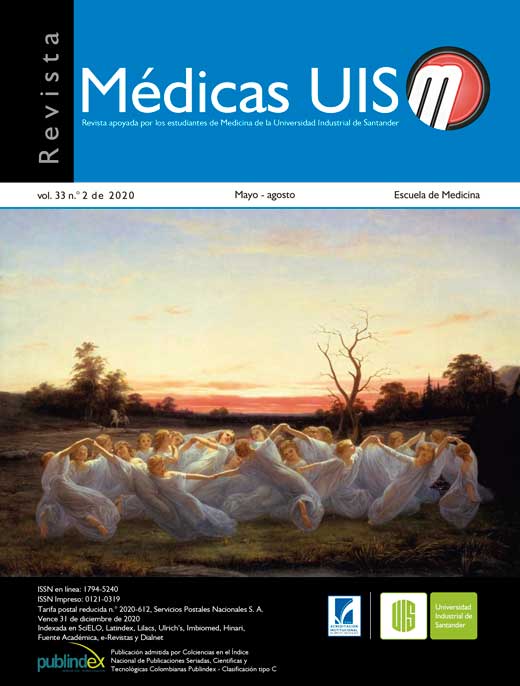 Sección
Artículo original