Cisticercosis hepática: a propósito de un caso y revisión de la literatura
Guillermo Antonio Jiménez

temporal Universidad del Rosario. Bogotá. Colombia

Juan Carlos Sabogal Olarte

Hospital Universitario, Méderi. Bogotá. Colombia.

Daniel Upegui Jiménez

Hospital Universitario, Méderi. Bogotá. Colombia.
Resumen
La cisticercosis hepática es una enfermedad parasitaria bastante rara que consiste en el compromiso hepático por el cisticerco, con pocos casos reportados en la literatura, ninguno antes reportado en Colombia. Esta infección es producida por Cysticercus cellulosae, la forma larvaria del helminto Taenia solium. Es adquirida al consumir los huevos de la Tenia spp que se encuentran en la comida poco cocinada o el agua. En los casos reportados de cisticercosis hepática, el tratamiento se basa principalmente en el uso de antihelmínticos y en ocasiones quirúrgico. Se presenta el caso de un paciente mayor, indígena, quien consultó por melenas y dolor abdominal. En el examen físico se encontró hepatomegalia. Las imágenes diagnósticas plantean diagnóstico diferencial entre quiste hidatídico vs cistoadenoma/cistoadenocarcinoma. El examen histopatológico sugiere compromiso por cisticercosis. Se reporta el caso de una cisticercosis hepática, con histología altamente sugestiva y hallazgos imagenológicos bastante inusuales a los previamente descritos en literatura. MÉD.UIS. 2020;33(2):101-108.
Palabras clave:
Cisticercosis, Enfermedades parasitarias hepáticas, Enfermedades parasitarias
Descargas
La descarga de datos todavía no está disponible.
Referencias
White AC. Cysticercosis: Epidemiology, transmission, and prevention [Internet]. UpToDate. 2018 [cited 1 February]. Available from: https://www.uptodate.com/contents/cysticercosis-epidemiology-transmission-and-prevention

Montresor A, Palmer K. Taeniasis/cysticercosis trend worldwide and rationale for control. Parasitol Int. 2006;55(Suppl):S301‐S303.

Garcia HH, Nash TE, Del Brutto OH. Clinical symptoms, diagnosis, and treatment of neurocysticercosis. Lancet Neurol. 2014;13(12):1202‐15.

Carolina A, Sánchez F, Pastrán SM, Vargas NS, Beltrán M, Enriquez Y, et al. Cisticercosis en Colombia. Estudio de seroprevalencia 2008-2010. Acta Neurol Colomb. 2013;29(2):73–86.

Farrar J, Junghanss T, Lalloo D, Hotez PJ, Kang G, White NJ. Manson's tropical diseases. 23ª ed. Londres: Elsevier; 2014.

Vianna LG, Macedo V, Costa JM. Cisticercose músculo-cutânea e visceral--doença rara? [Musculocutaneous and visceral cysticercosis: a rare disease?]. Rev Inst Med Trop Sao Paulo. 1991;33(2):129‐36.

Zimmermann A. Tumor-like Parasitic Lesions of the Hepatobiliary Tract: Echinococcosis and Cysticercosis. In: Tumors and Tumor-Like Lesions of the Hepatobiliary Tract Springer International Publishing; 2016. p. 1–15.

Sickel JZ, Fultz PJ, Penwarden B, Laczin J. Hepatic cysticercosis. Report of an unusual case. J Clin Gastroenterol. 1995;20(2):160‐3.

Vijayaraghavan SB. Sonographic appearances in cysticercosis. J Ultrasound Med. 2004;23(3):423‐7.

Sathyanarayanan V, Sambhaji C, Saravu K, Razak A, Polnaya A, Rao SN. A rare case of hepatic cysticercosis. Asian Pac J Trop Biomed. 2011;1(1): S139–40.

Singh N, Singh DK, Parihar A, Singh R. Disseminated cysticercosis: rare manifestation of a common disease. BMJ Case Rep. 2012.

Sen K, Karmakar P, Bandyopadhyay A, Santra T, Sarkar M. Cysticercosis involving muscles and liver only: A yet unknown entity. Ann Trop Med Public Heal. 2013;6(3):350–2.

Chaudhary V, Bano S, Kumar P, Narula MK, Anand R. Hepatic cysticercosis: a rare entity. Abdom Imaging. 2014;39(6):1182–5.

Olivares LM, Bennesch A, Fischer J, Coringrato M, Maronna E. Cisticercosis cutánea y hepática diseminada en una paciente con infección por HTLV-1. Dermatología Argentina. 2018;24(2):108–10.

Kradin RL. Diagnostic Pathology of Infectious Disease. 2ª ed. Philadelphia: Elsevier; 2017.

Yamasaki H, Nakao M, Sako Y, Nakaya K, Ito A. Molecular identification of Taenia solium cysticercus genotype in the histopathological specimens. Southeast Asian J Trop Med Public Health. 2005;36(4):131–4.

Agudelo Higuita NI, Brunetti E, McCloskey C. Cystic Echinococcosis. J Clin Microbiol. 2016;54(3):518‐23.

McManus DP, Gray DJ, Zhang W, Yang Y. Diagnosis, treatment, and management of echinococcosis. BMJ.
2012;344:E3866.

Wen H, Vuitton L, Tuxun T, Li J, Vuitton DA, Zhang W, et al. Echinococcosis: Advances in the 21st Century. Clin Microbiol Rev. 2019;32(2):E00075-18.

Brunetti E, Tamarozzi F, Macpherson C, Filice C, Piontek MS, Kabaalioglu A, et al. Ultrasound and Cystic Echinococcosis. Ultrasound Int Open. 2018;4(3): E70‐E78.

Yuan WH, Lee RC, Chou YH, Chiang JH, Chen YK, Hsu HC. Hydatid cyst of the liver: a case report and literature review. Kaohsiung J Med Sci. 2005;21(9):418‐23.

Lescano AG, Zunt J. Other cestodes: sparganosis, coenurosis and Taenia crassiceps cysticercosis. Handb Clin Neurol. 2013;114: 335‐45.

Dailey Garnes NJM, Serpa JA, White AC. Taenia (Multiceps) multiceps and Taenia serialis. In Principles and Practice of Pediatric Infectious Diseases. Elsevier; 2018. p. 1410-1.e1

Ali SM, Reddy PS, Venugopal S, Chhabra M, Mahadevan A. Cerebral Coenurosis Masquerading as Malignancy: A Rare Case Report from India. J Neurosci Rural Pract. 2019;10(2):367‐70.

Bächler P, Baladron MJ, Menias C, Beddings I, Loch R, Zalaquett E, et al. Multimodality Imaging of Liver Infections: Differential Diagnosis and Potential Pitfalls. Radiographics. 2016;36(4):1001‐23.

Soares KC, Arnaoutakis DJ, Kamel I, Anders R, Adams RB, Bauer TW et al. Cystic neoplasms of the liver: biliary cystadenoma and cystadenocarcinoma. J Am Coll Surg. 2014;218(1):119‐28.

Sang X, Sun Y, Mao Y, Yang Z, Lu X, Yang H, et al. Hepatobiliary cystadenomas and cystadenocarcinomas: a report of 33 cases. Liver Int. 2011;31(9):1337‐44.

Saxena R. Benign and malignant tumors of bile ducts. Practical hepatic pathology: A Diagnostic Approach. 2° ed. Philadelphia: Elsevier/Saunders; 2018. p. 545–554.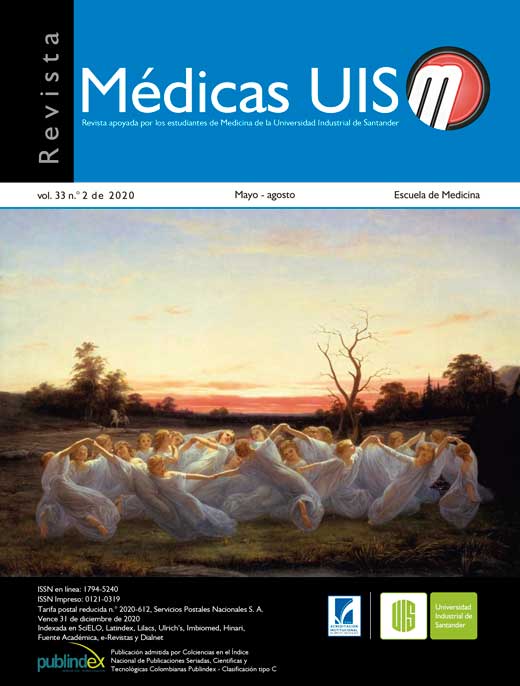 Sección
Presentación de caso