Coroideremia familiar: reporte de caso con énfasis en la evolución clínica y adquisición de discapacidad visual
Ana Mercedes Vanegas-Torres

Universidad Pontificia Bolivariana. Medellín. Antioquia. Colombia

Carolina López Bedoya

Universidad Pontificia Bolivariana. Medellín. Antioquia. Colombia

Jorge Andrés Ramírez-Orozco

Universidad Pontificia Bolivariana. Medellín. Antioquia. Colombia

Juan Felipe González-Franco

Universidad Pontificia Bolivariana. Medellín. Antioquia. Colombia.

Juan Camilo Suárez-Escudero

Universidad Pontificia Bolivariana. Medellín. Antioquia. Colombia
Resumen
La coroideremia es una enfermedad retiniana hereditaria que se caracteriza por la degeneración progresiva coriocapilar de coroides y retina; esta tiene la capacidad de limitar el funcionamiento y generar discapacidad, afectando el desempeño de la persona en el ámbito familiar, social y profesional, al producir dificultades en la comunicación, la movilidad, el desplazamiento y la gestión de su diario vivir. Esta condición de salud ocular se origina por una mutación del gen que codifica la proteína RabEscort-1, ubicada en el cromosoma Xq21. Su fisiopatología no es clara, y los reportes de caso de coroideremia familiar son escasos en Latinoamérica. Se reporta el caso de un hombre de 54 años con nictalopía y pérdida progresiva de agudeza visual, con un hermano menor con coroideremia y primo materno con sospecha de dicha enfermedad, con énfasis en evolución clínica, hallazgos al fondo de ojo y progresión a discapacidad categoría visual, tipo baja visión. MÉD.UIS. 2020;33(2):109-115.
Palabras clave:
Coroideremia, Enfermedades de la retina, Baja visión, Ceguera, Nictalopía
Descargas
La descarga de datos todavía no está disponible.
Referencias
Zhang AY, Mysore N, Vali H, Koenekoop J, Cao SN, Li S, et al Choroideremia Is a Systemic Disease With Lymphocyte Crystals and Plasma Lipid and RBC Membrane Abnormalities. Invest Ophthalmol Vis Sci. 2015;56(13):8158–65.

Kärnä J. Choroideremia. A clinical and genetic study of 84 Finnish patients and 126 female carriers. Acta Ophthalmol Suppl 176. Copenhagen: Scriptor; 1986.

Van den Hurk JA, Schwartz M, van Bokhoven H, van de Pol TJ, Bogerd L, Pinckers AJ, et al. Molecular basis of choroideremia (CHM): mutations involving the Rab escort protein-1 (REP-1) gene. Hum Mutat. 1997;9(2):110–7.

MacLaren RE, Groppe M, Barnard AR, Cottriall CL, Tolmachova T, Seymour L, et al. Retinal gene therapy in patients with choroideremia: initial findings from a phase 1/2 clinical trial. Lancet Lond Engl. 2014;383(9923):1129–37.

Guo H, Li J, Gao F, Li J, Wu X, Liu Q. Whole-exome sequencing reveals a novel CHM gene mutation in a family with choroideremia initially diagnosed as retinitis igmentosa. BMC Ophthalmol. 2015;15:85.

Roberts MF, Fishman GA, Roberts DK, Heckenlively JR, Weleber RG, Anderson RJ, et al. Retrospective, longitudinal, and cross sectional study of visual acuity mpairment in choroideraemia. Br J Ophthalmol. 2002;86(6):658–62.

van Bokhoven H, van den Hurk JA, Bogerd L, Philippe C, Gilgenkrantz S, de Jong P, et al. Cloning and characterization of the human choroideremia gene. Hum Mol enet. 1994;3(7):1041–6.

McCulloch C, McCulloch RJP. A hereditary and clinical study of choroideremia. Trans Am Acad Ophthalmol Otolaryngol. 1948;52:160–90.

Coussa RG, Traboulsi EI. horoideremia: a review of general findings and pathogenesis. Ophthalmic Genet. 2012;33(2):57–65.

Ponjavic V, Abrahamson M, Andréasson S, Van Bokhoven H, Cremers FP, Ehinger B, et al. Phenotype variations within a choroideremia family lacking the entire CHM gene. Ophthalmic Genet. 1995;16(4):143–50.

Cheng CK, Chen MS, Hou PK. Choroideremia: a study of two families. J Formos Med Assoc. 1991;90(11):1103–12.

Seabra MC, Ho YK, Anant JS. Deficient geranylgeranylation of Ram/Rab27 in choroideremia. J Biol Chem. 1995;270(41):24420–7.

Klein T, Wieser W, Eigenwillig CM, Biedermann BR, Huber R. Megahertz OCT for ultrawide-field retinal imaging with a 1050 nm Fourier domain mode-locked laser. Opt Express. 2011;19(4):3044–62.

MacDonald IM, Russell L, Chan CC. Choroideremia: new findings from ocular pathology and review of recent literature. Surv Ophthalmol. 2009;54(3):401–7.

Preising M, Ayuso C. Rab escort protein 1 (REP1) in intracellular traffic: a functional and pathophysiological overview. Ophthalmic Genet. 2004;25(2):101–10.

Corbeel L, Freson K. Rab proteins and Rab-associated proteins: major actors in the mechanism of protein-trafficking disorders. Eur J Pediatr. 2008;167(7):723–9.

Dimopoulos IS, Chan S, MacLaren RE, MacDonald IM. Pathogenic mechanisms and the prospect of gene therapy for choroideremia. Expert Opin Orphan Drugs. 2015;3(7):787–98.

Alory C, Balch WE. Organization of the Rab-GDI/CHM superfamily: the functional basis for choroideremia disease. Traffic. 2001;2(8):532–43.

Bae K, Song JS, Lee C, Kim NKD, Park WY, Kim BJ, et al. Identification of Pathogenic Variants in the CHM Gene in Two Korean Patients With Choroideremia. Ann Lab Med. 2017;37(5):438–42.

Zinkernagel MS, MacLaren RE. Recent advances and future prospects in choroideremia. Clin Ophthalmol. 2015;9:2195–200.

Cremers FP, van de Pol DJ, van Kerkhoff LP, Wieringa B, Ropers HH. Cloning of a gene that is rearranged in patients with choroideraemia. Nature. 1990;347(6294):674–7.

MacDonald IM, Hume S, Chan S, Seabra MC. Choroideremia. GeneReviews® [Internet]. 1993 [citado 21 Jun 2019]. Disponible en: http://www.ncbi.nlm.nih.gov/books/NBK1337/

Solinís MÁ, del Pozo-Rodríguez A, Apaolaza PS, Rodríguez- Gascón A. Treatment of ocular disorders by gene therapy. Eur J Pharm Biopharm. 2015;95(Pt B):331–42.

Kalatzis V, Hamel CP, MacDonald IM; First International Choroideremia Research Symposium. Choroideremia: towards a therapy. Am J Ophthalmol. 2013;156(3):433-7.

Perez-Cano HJ, Garnica-Hayashi RE, Zenteno JC. CHM gene olecular analysis and X-chromosome inactivation pattern determination in two families with choroideremia. Am J Med Genet A. 2009;149A(10):2134–40.

Fahim AT, Daiger SP. The Role of X-Chromosome Inactivation in Retinal Development and Disease. Adv Exp Med Biol. 2016;854:325–31.

Kobayashi S. Live imaging of X chromosome inactivation and reactivation dynamics. Dev Growth Differ. 2017;59(6):493–500.

Li S, Guan L, Fang S, Jiang H, Xiao X, Yang J, et al. Exome sequencing reveals CHM mutations in six families with atypical choroideremia initially diagnosed as retinitis pigmentosa. Int J Mol Med. 2014;34(2):573–7.

Zinkernagel MS, Groppe M, MacLaren RE. Macular hole surgery in patients with end-stage choroideremia. Ophthalmology. 2013;120(8):1592–6.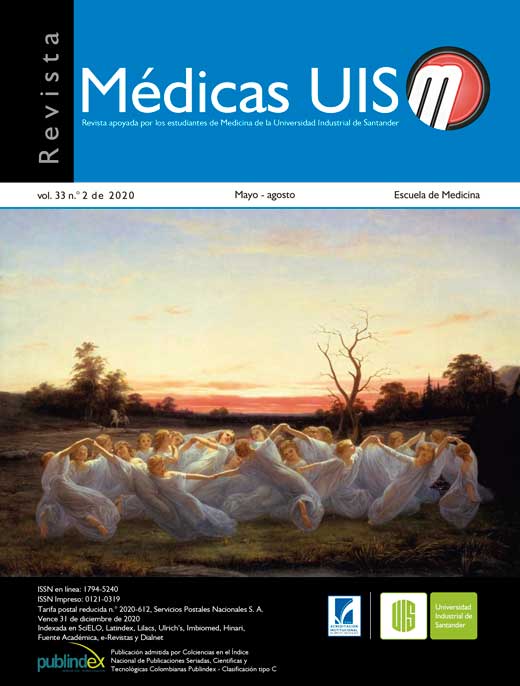 Sección
Presentación de caso