Paracoccidioidomicosis diseminada con insuficiencia suprarrenal: reporte de un caso de autopsia
Julio César Mantilla Hernández

Universidad Industrial de Santander

Ana Milena Angarita Africano

Universidad Industrial de Santander

Mayerly Cárdenas Guevara

Universidad Industrial de Santander
Resumen
RESUMEN
La paracoccidioidomicosis producida por el Paracoccidioides brasiliensis es una micosis sistémica que afecta principalmente los pulmones y puede comprometer mucosas, piel, sistema reticuloendotelial, hueso y glándulas suprarrenales. Esta enfermedad es una importante causa de insuficiencia suprarrenal en Brasil y en estudios posmortem se encuentra compromiso de estas hasta en el 80% de los casos. 
Se presenta el caso de un campesino, con masa de seis centímetros de diámetro en ojo izquierdo, hospitalizado por alteración del estado de conciencia, deshidratación e hipotensión. Las pruebas de laboratorio indican alteración electrolítica. Recibe manejo con líquidos endovenosos sin mejoría y posteriormente fallece. El estudio de autopsia evidencia compromiso pulmonar, linfático y suprarrenal por Paracoccidioides brasiliensis. 
Palabras clave: Paracoccidioidomicosis. Insuficiencia suprarrenal. Paracoccidioides brasiliensis. Autopsia. 
SUMMARY
Paracoccidioides brasiliensis causes a systemic infection that primarily affects the lungs, but can also target mucous membranes, skin, reticuloendothelial system, bone, and adrenal glands. This disease constitutes an important cause of adrenal insufficiency in Brazil and studies posmortem show that the adrenal glands are compromised in as many as 80% of cases.
This is the case of a farmer who presented with a mass of 6 cms in diameter in his left eye. He was hospitalized for altered state of consciousness, dehydration, and hypotension. Laboratory tests indicated electrolytes disturbance. He received management with intravenous fluids without improvement and subsequently died. The autopsy evidenced lung, lymphatic, and adrenal compromise by Paracoccidioides brasiliensis.
Keywords: Paracoccidioidomicosis. Adrenal insufficiency. Paracoccidioides brasiliensis. Autopsy.
Descargas
La descarga de datos todavía no está disponible.
Referencias
1.Murray HW, Littman ML, Roberts RB. Disemínated Paracoccidioidomycosis (South American Blastomicosis) in the United States. Am J Med 1974; 56:209-20.

2.Leal AM, Bellucci AD, Muglia VF, Lucchesi FR. Unique Adrenal gland imaging features in Addisson's disease caused by Paracoccidioidomycosis. American Journal of Roentgenology. 2003 Nov;181(5):1433-4.

3. Pereira CM, Silva SR, Priscila Spaziane Camargo, Andrea Mantesso, Rodrigo Calado Nunes Souza. Addison's disease associated to Paracoccidioidomycosis. Brazilian Journal Of Oral Sciences. 2004;3(9):475-8.

4. Scully C, Almeida OP. Orofacial manifestations of the systemic mycosis. J Oral Pathol Med 1992;21:289-94

5. Restrepo A, Robledo J, Leiderman E, Restrepo M, Botero D, Bedoya V. Enfermedades Infecciosas. Edición 6ª. Editorial Corporación para Investigaciones biológicas Medellin, Colombia.2003.p.327-37

6. Restrepo A. paracoccidioides brasiliensis. En: Mandell GL, Bennett JE, Dolin R. Enfermedades infecciosas, principios y práctica. Edición 5ª. Editorial Panamericana. 2002 .p.3346-9.

7.Bethlem, Newton, Lemle A, Bethlem E, Wanke B. Paracoccidioidomicosis. Seminars in Respiratory Medicine. 1991;2.

8.Franco M, Da Silva C, Restrepo A, Del Negro G. Paracoccidioidomycosis. 1994. BY CRC. Pag 1-10.

9. Ajello J. Paracoccidioidomicosis: A History Review. Pan American Health Organization Se¡. Publication 1972;254:3-10.

10. Zuno B.A. Aspectos clínicos de la blastomicosis sudamericana (paracoccidioidomicosis) en el Perú. Rev. Peru Med Exp Salud Pública 2002; 19(1):43-7.

11. Pereira RM, Guerra-Junior G, Tresoldi AT. Adrenal function in 23 children with paracoccidioidomycosis. Rev. Inst. Med. trop. S. Paulo 2006;48(6):333-6.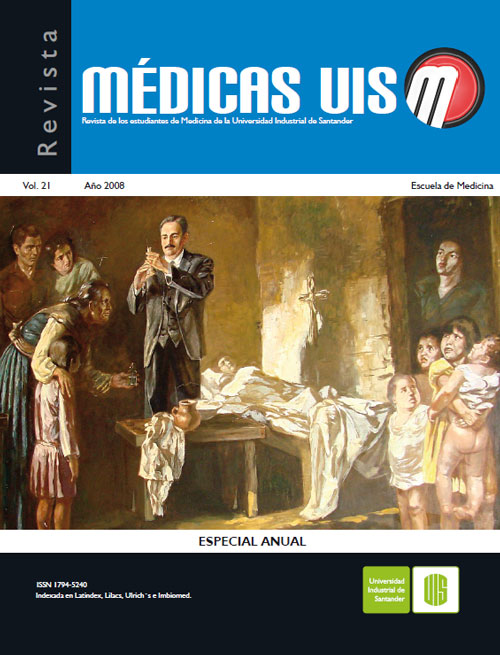 Sección
Presentación de caso
Esta obra está bajo licencia internacional
Creative Commons Reconocimiento 4.0
.