Mastalgia: diagnóstico y manejo clínico
Diego José Ardila Ardila

Universidad Industrial de Santander
Resumen
Mastalgia como entidad clínica es el dolor mamario de mayor intensidad que el dolor mamario premenstrual sin acompañarse de ningún otro síntoma. Afecta el 70% de las mujeres en su vida. Se clasifi ca en cíclico y no cíclico según se asocie o no con el ciclo menstrual. Existen factores asociados como la nicotina, la terapia de reemplazo hormonal y los anticonceptivos orales. El tratamiento se debe basar en la educación. (MÉDICAS UIS 2007;20(2):105-10).
PALABRAS CLAVE: Mama. Enfermedades mamarias. Enfermedad fi broquística de la mama. Quiste mamario.
Descargas
La descarga de datos todavía no está disponible.
Referencias
1. Vera, Saettler, Szuck. Mastalgia, Guideline breast disease comity, society of obstetricians and gynecologist of Canada. SOGC Clinical Practice Guideline 2006;170.

2. Rhobert, Shirley; Up to date version 13, 2; current through April 2005.

3. Robin L Smith. Evaluation and management of Breast Pain. Foundation for Medical Education and Research 2004;79:353-72.

4. Ernster VL, Manson L, Goodson WH, Sickles EA, Sacks ST, et al. Effects of caffeine–free diet on benign breast disease a randomized trial surgery 1982;91(3);253-7.

5. Ader DN, South-Paul J, Adera T Deuster PA. Cyclical mastalgia; prevalence and associated health and behavioral factors. J Psychosom Obstet Gynecol 2002;22;71-6.

6. Goodwin PJ, Miller A, Del Guidice ME, Singer W, Connelly P, Knox Ritchie JW. Elevated high–density lipoprotein cholesterol and dietary fat intake in women with cyclic mastalgia. AM J Obstet Gynecol 1998;179;430-7.

7. Khan SA, Apkarian AV. The Characteristics of cyclical and non-cyclical mastalgia, a prospective study using a modified McGill Pain Questionnaire. Breast Cancer Res Treat 2002;75:147-57.

8. Wisbey JR, Kumar S, Mansel RE, Peece PE, Pye JK, Hughes LE. Natural history of breast pain Lancet 1983;17;2(835):672-4.

9. Ader DN. Shriver Cyclical mastalgia: prevalence and impact in an outpatient breast clinic sample. J Am Coll Surg 1997;185(5):466-70.

10. Davies EL, Gateley CA, Miers M, Mansel RE. The long–term course of mastalgia JR Soc Med 1998;91:462-4.

11. Friedolf Peters, Petra Diemer, Olaf Mecks, Lu`tje J. Behnken, Severity of Mastalgia in Relation to Milk Duct Dilatation. The American College of Obstetricians and Gynecologists 2003;101(19):55-63.

12. Corry DC. Pain in Carcinoma of the Breast. Lancet 1952;1:274.

13. River L, Silverstein J, Grout J, et al. Carcinoma of the breast; the diagnostic significance of pain. Am J Surg 195;82:733.

14. Mauvis-Jarvis P. Progesterone cream for mastalgia. Nouv Presse Med 1974;16:1027.

15. Conard J, Basdevant A, Thomas J. Cardiovascular risk factors and combined estrogen-progestin replacement therapy: a placebo-controlled study with nomegestrol acetate and estradiol. Fertil Steril 1995;64(5):957-62.

16. Ader DN, Browne MW. Prevalence and impact of cyclic mastalgia in a United States clinic-based sample. Am J Obstet Gynecol 1997; 177(1):126-32.

17. Euhus DM, Uyehara C. Influence of parenteral progesterone on the prevalence and severity of mastalgia in premenopausal women: a multi-institutional cross-sectional study. J Am Coll Surg 1997; 184(6):596-604.

18. Ader DN, South-Paul J, Adera T, Deuster PA. Cyclical mastalgia: prevalence and associated health and behavioral factors. J Psychosom Obstet Gynecology 2001;22(2):71-6.

19. London RS, Sundaram GS, Murphy L, Manimekalai S, Reynolds M. Goldstein The effect of vitamin E on mammary dysplasia: a double-blind study. Obstet Gynecol 1985;65(1):104-6.

20. Ernster V, Goodson WH 3rd, Hunt TK, Petrakis NL, Sickles EA, Miike R. Vitamin E and benign breast "disease": a double-blind, randomized clinical trial.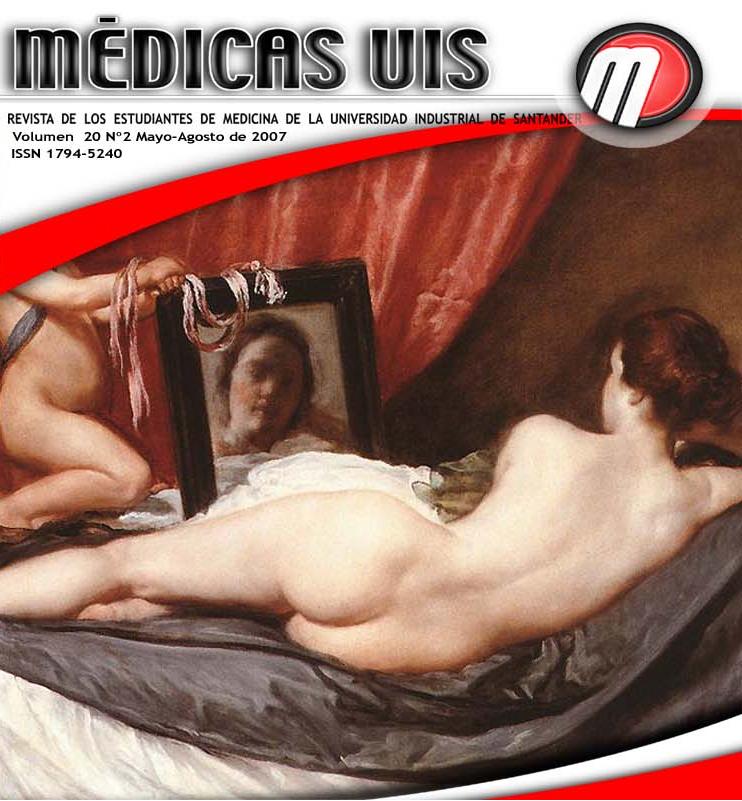 Esta obra está bajo licencia internacional
Creative Commons Reconocimiento 4.0
.