Subgrupos de dependencia multidimensional en adultos mayores que viven en la comunidad: un análisis de clase latente
Kely Rely

Universidad Nacional Autónoma de México

Carmen García-Peña

Instituto Nacional de Geriatría. México

Guillermo Salinas-Escudero

Hospital Infantil de México Federico Gómez

Luis- Miguel Gutiérrez-Robledo

Instituto Nacional de Geriatría, México

Rebeca Wong

University of Texas Medical Branch, USA

Delfino Vargas-Chanes

Universidad Nacional Autónoma de México
Resumen
Objetivo: Utilizar el análisis de clase latente (ACL) para la identificación de patrones de dependencia multidimensional en una muestra de adultos mayores y evaluar factores sociodemográficos predictivos de pertenencia a una clase. Métodos: Se utilizaron datos longitudinales del Estudio Nacional de Salud y Envejecimiento en México (ENASEM). Se analizaron 7,920 adultos mayores, el 55% eran mujeres. El ACL fue utilizado para la identificación de subgrupos significativos. Para el ACL se realizó con el software MPlus. El modelo de clase final se eligió con base a la comparativa de estadísticas de ajuste múltiple y parsimonia teórica, con modelos de complejidad creciente analizados secuencialmente hasta que se identificó el modelo de mejor ajuste. Se incorporaron covariables para explorar la asociación entre estas variables y la pertenencia a clases. Resultados: Se identificaron tres grupos de clases basados en los nueve identificadores. "Adultos mayores activos" estaba compuesto por el 64%. "Relativamente independiente" y "Discapacidad física" comprenden el 26% y el 10% de la muestra, respectivamente. Los perfiles de "Adultos mayores activos" y "Relativamente independiente" eran comparativamente más uniformes. El grupo de "discapacidad física" comprenden a los individuos más propensos a un perfil de dependencia. Conclusiones: Estos hallazgos resaltan la utilidad de adoptar un enfoque centrado en la persona lo que sugiere nuevos horizontes de investigación e intervención a medida de las características particulares de los adultos mayores. Basado en patrones de dependencia multidimensional, este estudio identificó una tipología de dependencia utilizando datos de una encuesta representativa a nivel nacional. 
Palabras clave:
Dependencia multidimensional, análisis de clases latente, envejecimiento, ENASEM
Descargas
La descarga de datos todavía no está disponible.
Referencias
1. United Nations. Department of International Economic and Social Affairs. Population D. World Population Ageing; 2013.

2. Coale AJ, Hoover EM. Population growth and economic development: Princeton University Press; 2015.

3. Mirkin B, Weinberger MB. The demography of population ageing. publicado en Population Bulletin of the United Nations. 2001; 42(43): 37-53.

4. Angel JL, Vega W, López-Ortega M. Aging in Mexico: Population trends and emerging issues. Gerontologist. 2017; 57(2): 153-162. doi: 10.1093/geront/gnw136.

5. Frenk J, Bobadilla JL, Stern C, Frejka T, Lozano R. Elements for a theory of the health transition. Health Transit Rev. 1991; 1(1): 21-38.

6. Frenk J, Sepúlveda J, Gómez-Dantés O, Knaul F. Evidence-based health policy: three generations of reform in Mexico. Lancet. 2003; 362(9396): 1667-1671. doi: 10.1016/S0140-6736(03)14803-9.

7. Wong R, Michaels-Obregon A, Palloni A. Cohort Profile: The Mexican Health and Aging Study (MHAS). Int J Epidemiol. 2015: dyu263.

8. Wong R, Palloni A. Aging in Mexico and Latin America. International handbook of population aging: Springer; 2009. p. 231-252.

9. Murillo-López S, Venegas-Martínez F. Cobertura de los sistemas de pensiones y factores asociados al acceso a una pensión de jubilación en México. Pap Poblac 2011; 17(67): 209-250.

10. Robledo LMG, Campos RHM, Ortega ML. Present State of Elder Care in Mexico. Challenges of Latino Aging in the Americas: Springer; 2015. p. 379-392.

11. García-Peña C, Wagner FA, Sánchez-Garcia S, Juárez-Cedillo T, Espinel-Bermúdez C, García-Gonzalez JJ, et al. Depressive symptoms among older adults in Mexico City. J Gen Intern Med. 2008; 23(12): 1973-1980. doi: 10.1007/s11606-008-0799-2.

12. Gutierrez JP, Rivera-Dommarco J, Shamah-Levy T, Villalpando-Hernández S, Franco A, Cuevas-Nasu L, et al. Encuesta nacional de salud y nutrición 2012. Resultados Nacionales Cuernavaca, México: Inst Nacional de Salud Pública. 2012.

13. Gutiérrez-Robledo LMF, García-Peña MdC, Jiménez-Bolón JE. Envejecimiento y dependencia. Realidades y previsión para los próximos años Intersistemas, editor. México:
Intersistemas; 2014.

14. Gerst K, Michaels-Obregon A, Wong R. The impact of physical activity on disability incidence among older adults in Mexico and the United States. J Aging Res. 2011; 2011: 420714. doi: 10.4061/2011/420714.

15. Wong R, Gerst K, Michaels-Obregon A, Palloni A. Burden of Aging in developing countries: disability transitions in Mexico compared to the United States. Manuscript submitted for publication. 2010.

16. Doubova SV, Pérez-Cuevas R, Espinosa-Alarcón P, Flores-Hernández S. Social network types and functional dependency in older adults in Mexico. BMC Public Health. 2010; 10(1): 104.

17. Angel RJ, Angel JL, Lee G-Y, Markides KS. Age at migration and family dependency among older Mexican immigrants: Recent evidence from the Mexican American EPESE. The Gerontologist. 1999; 39(1): 59-65.

18. Angel RJ, Angel JL, Hill TD. Subjective control and health among Mexican-origin elders in Mexico and the United States: Structural considerations in comparative research. J Gerontol B Psychol Sci Soc Sci. 2009; 64B(3): 390-401. doi: 10.1093/geronb/gbn029.

19. Bandeen-Roche K, Xue Q-L, Ferrucci L, Walston J, Guralnik JM, Chaves P, et al. Phenotype of frailty: characterization in the women›s health and aging studies. The J Gerontol A: Biol Sci Med Sci. 2006; 61(3): 262-266. doi: 10.1093/gerona/61.3.262.

20. Bandeen-Roche K, Miglioretti DL, Zeger SL, Rathouz PJ. Latent variable regression for multiple discrete outcomes. J Am Statistical Association. 1997; 92(440): 1375-1386. doi: https://doi.org/10.1080/01621459.1997.10473658.

21. Moran M, Walsh C, Lynch A, Coen RF, Coakley D, Lawlor BA. Syndromes of behavioural and psychological symptoms in mild Alzheimer's disease. Int J Geriatr Psychiatry. 2004;19(4): 359-364. doi: 10.1002/gps.1091.

22. Robledo LMG. La salud del anciano en México y la nueva epidemiología del envejecimiento. 2004.

23. Gutiérrez-Robledo LMF, García-Peña MdC, Jiménez-Bolón JE. Envejecimiento y dependencia. Realidades y previsión para los próximos años. México: Intersistemas; 2014.

24. Barrantes-Monge M, García-Mayo EJ, Gutiérrez-Robledo LM, Miguel-Jaimes A. Dependencia funcional y enfermedades crónicas en ancianos mexicanos. Salud Pública Méx. 2007; 49(s4): S59-S66.

25. Aguilar-Navarro SG, Amieva H, Gutiérrez-Robledo LM, Avila-Funes JA. Frailty among Mexican community-dwelling elderly: a story told 11 years later. The Mexican health and aging study. Salud Pública Mex. 2015; 57(Supp 1): s62-s9.

26. Katz S, Ford AB, Moskowitz RW, Jackson BA, Jaffe MW. Studies of illness in the aged: the index of ADL: a standardized measure of biological and psychosocial function. JAMA. 1963; 185(12): 914-919. doi: 10.1001/jama.1963.03060120024016.

27. Lawton MP, Brody EM. Assessment of older people: self-maintaining and instrumental activities of daily living. Nursing Research. 1970; 19(3): 278.

28. Harwood RH, Sayer AA, Hirschfeld M. Current and future worldwide prevalence of dependency, its relationship to total population, and dependency ratios. Bull World Health Organ.
2004; 82(4): 251-258.

29. Isherwood LM, King DS, Luszcz MA. A longitudinal analysis of social engagement in latelife widowhood. Int J Aging Hum Dev. 2012; 74(3): 211-229. doi: https://doi.org/10.2190/AG.74.3.c.

30. Donnelly EA, Hinterlong JE. Changes in social participation and volunteer activity among recently widowed older adults. Gerontologist. 2009; 50(2):
158-169. doi: 10.1093/geront/gnp103.

31. Radloff LS. The CES-D scale a self-report depression scale for research in the general population. Applied psychological measurement. 1977; 1(3): 385-401.

32. Lafortune L, Béland F, Bergman H, Ankri J. Health state profiles and service utilization in community living elderly. Med Care. 2009; 47(3): 286-294. doi: 10.1097/MLR.0b013e3181894293.

33. Muthén BO. Beyond SEM: General latent variable modeling. Behaviormetrika. 2002; 29(1): 81-117.

34. Dorantes-Mendoza G, Avila-Funes JA, Mejia-Arango S, Gutierrez-Robledo LM. Factors associated with functional dependence in older adults: a secondary analysis of the National Study on Health and Aging, Mexico, 2001. Rev Panam Salud Publica 2007; 22(1): 1-11. doi: 10.1590/s1020-49892007000600001.

35. Magidson J, Vermunt J. Latent class models for clustering: A comparison with K-means. Canadian J Marketing Res. 2002; 20(1): 36-43.

36. Reboussin BA, Liang KY, Reboussin DM. Estimating equations for a latent transit ion model with multiple discrete indicators. Biometrics 1999; 55(3): 839-845. doi: 10.1111/j.0006-341x.1999.00839.x.

37. Muthén B, Muthén LK. Integrating person-centered and variable-centered analyses: Growth mixture modeling with latent trajectory classes. Alcohol
Clin Exp Res. 2000; 24(6): 882-891.

38. McLachlan G, Peel D. Finite mixture models: John Wiley & Sons; 2004.

39. Vermunt JK, Magidson J. Latent class cluster analysis. Applied latent class analysis. Edited by: Hagenaars JA, McCutcheon AL. 2002. Cambridge, UK: Cambridge University Press.

40. Lo Y, Mendell NR, Rubin DB. Testing the number of components in a normal mixture. Biometrika. 2001; 88(3): 767-778. doi: https://doi.org/10.1093/biomet/88.3.767.

41. Schwarz G. Estimating the dimension of a model. Ann Statist. 1978; 6(2): 461-464.

42. Sclove SL. Application of model-selection criteria to some problems in multivariate analysis. Psychometrika. 1987; 52(3): 333-343.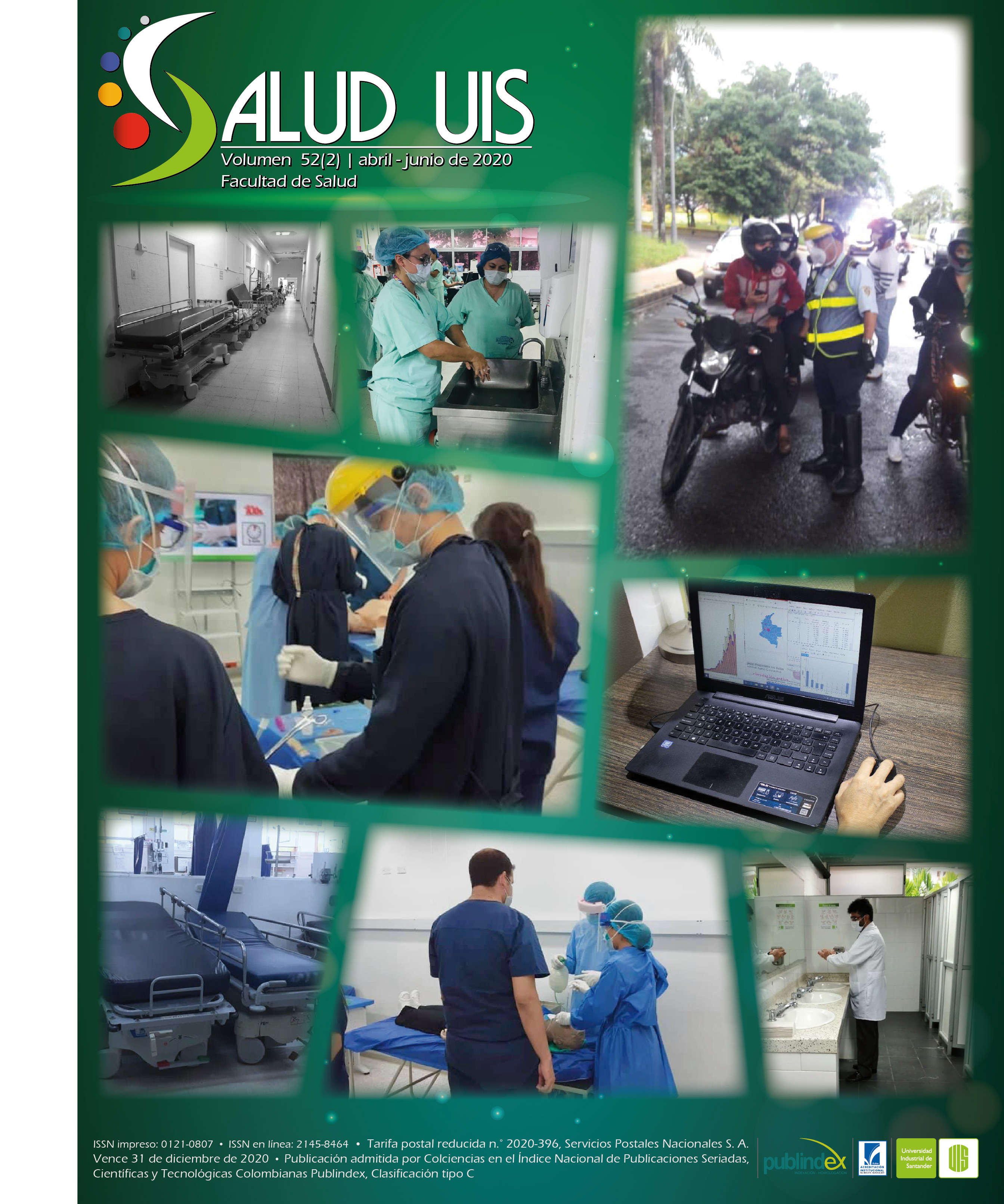 Sección
Artículos Científicos