Macrodactilia con sindactilia completa compleja en mano: reporte de caso
César Augusto Abril Gaona

Clínica FOSCAL

Guillermo Varón Plata

Clínica FOSCAL

Paula Andrea Mantilla Rueda

Universidad Autónoma de Bucaramanga

Oscar Leonardo Torra Barajas

Universidad Autónoma de Bucaramanga

Nathalia Jácome Pérez

Universidad Industrial de Santander
Resumen
La macrodactilia es una anormalidad congénita rara que se presenta en el 0.9% de malformaciones en miembro superior. Se caracteriza por un crecimiento excesivo de los tejidos blandos, de los huesos y de los dedos. El principal objetivo del tratamiento es obtener una mano funcional y estéticamente aceptable que permita un desarrollo psicomotor adecuado. Se reporta el caso de paciente con macrodactilia junto con sindactilia compleja por fusión de la falange distal u sinoniquia asociada en dedos medio y anular de mano izquierda en donde a los 3 meses posteriores a la cirugía, hubo mejoría funcional y estética.
Palabras clave:
Sindactilia, Mano, Anomalías Congénitas, Osteotomía, Operación quirúrgica
Descargas
La descarga de datos todavía no está disponible.
Referencias
1. Bernal GMJ, Cabrera VN, Álvarez PL, Nápoles PM, Ayala CÁP. Macrodactilia. Rev. Cuba. de Ortop. y Traumatol. 2017;31(1): 76-81.

2. Cammarata-Scalisi F, Campagnard JG, Da Silva G, Olivo C. Macrodistrofia Lipomatosa. Reporte de un Caso. Rev Chil Pediatr. 2010;81(6): 531-5.

3. Cerrato F, Eberlin KR, Waters P, Upton J, Taghinia A, Labow BI. Presentation and treatment of macrodactyly in children. J Hand Surg Am. 2013;38(11): 2112-2123

4. Álvarez RN, López MS, Porto RÁ, Porto GÁ. Macrodactilia. Epifisiodesis con minigrapas. Presentación de un caso. Rev méd electrón [Internet]. 2007;29(3): 310-5. Disponible en: http://www. revmedicaelectronica.sld.cu/index.php/rme/article/view/405

5. D MC, Green PKS. Cirugía de la mano. Vol. 2. p. 40.

6. Ezaki M. Insights into the pathogenesis of macrodactyly. J Hand Surg Eur Vol. 2019;44(1): 25-31.

7. Kobraei EM, Dusch MN, Meisel EM, Stevanovic M. A Novel Method of Treatment of Macrodactyly with Digital Nerve Resection and Nerve Allograft. Plast Reconstr Surg - Glob Open. 2019;7(10): e2483.

8. Cui H, Han G, Sun B, Fang X, Dai X, Zhou S, et al. Activating PIK3CA mutation promotes osteogenesis of bone marrow mesenchymal stem cells in macrodactyly. Cell Death Dis. 2020;11(7):505.

9. Rios JJ, Paria N, Burns DK, Israel BA, Cornelia R, Wise CA, et al. Somatic gain-of-function mutations in PIK3CA in patients with macrodactyly. Hum Mol Genet. 2013;22(3):444–51.

10. Shi X, Lu L, Jin X, Liu B, Sun X, Lu L, et al. GRIN3A and MAPT stimulate nerve overgrowth in macrodactyly. Mol Med Rep. 2016;14(6):5637–43.

11. Kowtharapu DN, Thawrani D, Kumar SJ. Macrodactyly. En: McCarthy JJ, editor. Drennen's the child's foot and ankle. 2nd Ed. Baltimore: Lippincot Williams and Wilkins; 2009. p. 443–9.

12. Hardwicke J, Khan MAA, Richards H, Warner RM, Lester R. Macrodactyly - options and outcomes. J Hand Surg Eur Vol. 2013;38(3):297–303.

13. Wu J, Tian G, Ji Y, Higgins JP, Lee WPA. Clinical characteristics of 90 macrodactyly cases. J Hand Surg Am. 2020;45(10):982

14. Gómez JC. Macrodactilia: A propósito de una serie de casos en el pie y revisión de la literatura. Rev Mex Ortop Ped [Internet]. 2013 [citado 5 Feb de 2021];15(2): 91-97. Disponible en: https://www. medigraphic.com/pdfs/opediatria/op-2013/op132f.pdf

15. Yang X, Jiang Y, Zhou S, Guo R, Han G, Wang B. Morphological and neurophysiological impairment of the nerve in type II macrodactyly. PLoS One. 2018;13(7).

16. Cavadas PC, Thione A. Treatment of hand macrodactyly with resection and toe transfers. J Hand Surg Am. 2018;43(4):388

17. Orphanet Journal Of Rare Diseases. Síndrome de Proteus. Orphanet J. Rare Dis [Internet]. 2013 [citado 5 Feb 2021]. Disponible en: https://www.orpha.net/consor/cgi-bin/OC_Exp. php?Expert=744&lng=ES

18. Kostakoglu N, Kayikcioglu A, Safak T, Ozcan G, Kecik A, Gursu G. Macrodactyly: report of eight cases of a rare anomaly. Turk J Pediatr Dis. 1996;38(1).

19. Gupta A, Burke CS. Macrodactyly. En: Joshua M, Scott H, Dan A, editors.The Pediatric Upper Extremity. New York: Springer New York; 2015. p. 369–88.

20. Ishida O, Ikuta Y. Long-term results of surgical treatment for macrodactyly of the hand. Plast Reconstr Surg. 1998;102(5):1586–90.

21. Ezaki M, Beckwith T, Oishi SN. Macrodactyly: decision-making and surgery timing. J Hand Surg Eur Vol. 2019;44(1):32–42.

22. Martín JA, Molina A, Hernandez MV, Lopez M. Macrodactilia. Aportación de un caso y consideraciones anatomopatológicas, clínicas y terapéuticas. Rev Esp de Cir Ost. 1987;410–9

23. Yushan M, Alike Y, Keremu A, Abulaiti A, Ren P, Yusufu A. Precise resection of macrodactyly under assistance of three-dimensional reconstruction technology: A case report. J Foot Ankle Surg. 2020;59(1):125–7.

24. Dogliotti AA. Revisión de la descripción y tratamiento de las anomalías congénitas más frecuentes de la mano. Cir plast iberolatinoam. 2017;43(1):97–106.

25. Waters PM, Gillespie BT. Ray Resection for Progressive Macrodactyly of the Hand: Surgical Technique and Illustrative Cases. J Hand Surg Am. 2016;41(8):251–256.

26. Rayan GM, Upton III J. Cleft Hand and Central Deficiencies. In: Rayan GM, Upton III J, editors. Congenital Hand Anomalies and Associated Syndromes. Berlin, Heidelberg: Springer Berlin Heidelberg; 2014. p. 247–261.

27. Kakinoki R, Ikeguchi R, Duncan SF. Transverse and longitudinal osteotomy for the treatment of macrodactyly simplex congenital a case report. Hand Surg. 2008;13(2):121-128.

28. Pino PA, Zlotolow DA, Kozin SH. What's new in congenital hand surgery. J Pediatr Orthop. 2020;40(8):753–760.

29. Barsky AJ. Macrodactyly. J Bone Joint Surg Am. 1967;49(7): 1255- 1266.

30. Tsuge K. Treatment of macrodactyly. Plast Reconstr Surg. 1967;39(6):590-596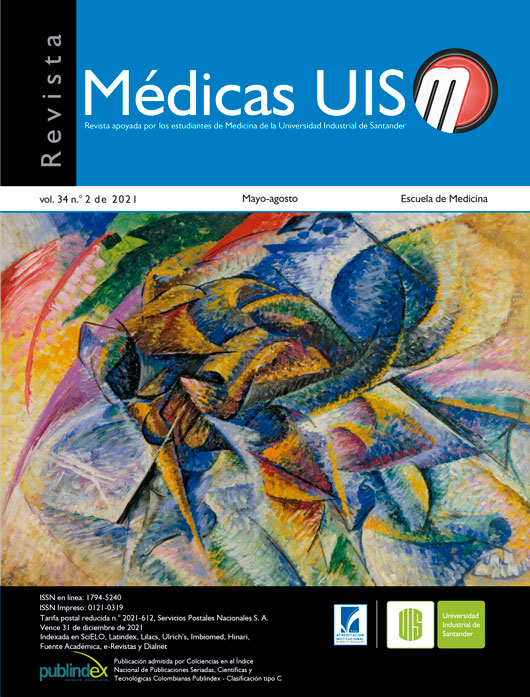 Sección
Presentación de caso
Esta obra está bajo licencia internacional
Creative Commons Reconocimiento 4.0
.