Bacteremia por Aeromonas caviae en paciente con hepatitis autoinmune: presentación de caso
Jorge Mario Palmezano-Díaz

Universidad Industrial de Santander

Claudia Lucía Figueroa-Pineda

Universidad Industrial de Santander

Diego Alejandro Rangel-Rivera

Universidad Industrial de Santander
Resumen
La hepatitis autoinmune es una enfermedad inflamatoria hepática mediada por un mecanismo de autoinmunidad. Este trastorno tiene un amplio espectro clínico y debe ser sospechado en presencia de elevación de inmunoglobulinas y aminotransferasas en un paciente con histopatología positiva para hepatitis. El diagnóstico se realiza descartando otras causas de hepatitis (viral, secundaria a medicamentos) y complementado con los estudios de autoanticuerpos típicos de esta enfermedad. El tratamiento se fundamenta en la monoterapia con corticoesteroides o su asociación con otros inmunomoduladores, obteniéndose buenas tasas de respuesta terapéutica. La tasa de infección hospitalaria en pacientes con cirrosis hepática oscila entre 32-34% siendo la bacteremia la cuarta fuente más frecuente, la cual tiene como etiología al género Aeromonas en un 5%. Se presenta el caso de una paciente de 51 años con hepatitis autoinmune quien consulta por descompensación de enfermedad hepática secundaria a bacteremia por un microorganismo poco común. MÉD.UIS. 2017;30(3):121-7.
Palabras clave:
Hepatitis Autoinmune, Bacteremia, Aeromonas, Autoanticuerpos, Autoinmunidad
Descargas
La descarga de datos todavía no está disponible.
Citas
1. Czaja AJ. Diagnosis and management of autoimmune hepatitis. Clin Liver Dis. 2015;19(1):57-79.

2. Manns MP, Lohse AW, Vergani D. Autoimmune hepatitis—Update 2015. J Hepatol. 2015;62Suppl:s100-11.

3. Werner M, Prytz H, Ohlsson B, Almer S, Bjornsson E, Bergquist A, et al. Epidemiology and the initial presentation of autoimmune hepatitis in Sweden: a nationwide study. Scand J Gastroenterol. 2008;43(10):1232-40.

4. Boberg KM, Aadland E, Jahnsen J, Raknerud N, Stiris M, Bell H. Incidence and prevalence of primary biliary cirrhosis, primary sclerosing cholangitis, and autoimmune hepatitis in a Norwegian population. Scand J Gastroenterol. 1998;33(1):99-103.

5. Primo J, Maroto N, Martinez M, Anton MD, Zaragoza A, Giner R, et al. Incidence of adult form of autoimmune hepatitis in Valencia (Spain).Acta Gastroenterol Belg. 2009;72(4):402-6.

6. Whalley S, Puvanachandra P, Desai A, Kennedy H. Hepatology outpatient service provision in secondary care: a study of liver disease incidence and resource costs. J R Coll Physicians Lond. 2007;7(2):119-24.

7. Abe M, Mashiba T, Zeniya M, Yamamoto K, Onji M, Tsubouchi H, et al. Present status of autoimmune hepatitis in Japan: a nationwide survey. J Gastroenterol. 2011;46(9):1136-41.

8. Liberal R, Vergani D, Mieli-Vergani G. Update on Autoimmune Hepatitis. J Clin Transl Hepatol. 2015;3(1):42-52.

9. Gatselis NK, Zachou K, Koukoulis GK, Dalekos GN. Autoimmune hepatitis, one disease with many faces: etiopathogenetic, clinicolaboratory and histological characteristics. World J Gastroenterol. 2015;21(1):60-83.

10. Moy L, Levine J. Autoimmune hepatitis: a classic autoimmune liver disease. Curr Probl Pediatr Adolesc Health Care. 2014;44(11):341-6.

11. Kogan J, Safadi R, Ashur Y, Shouval D, Ilan Y. Prognosis of symptomatic versus asymptomatic autoimmune hepatitis: a study of 68 patients. J Clin Gastroenterol. 2002;35(1):75-81.

12. Kessler WR, Cummings OW, Eckert G, Chalasani N, Lumeng L, Kwo PY. Fulminant hepatic failure as the initial presentation of acute autoimmune hepatitis. Clin Gastroenterol Hepatol. 2004;2(7):625-31.

13. Alvarez F, Berg PA, Bianchi FB, Bianchi L, Burroughs AK, Cancado EL, et al. International Autoimmune Hepatitis Group Report: review of criteria for diagnosis of autoimmune hepatitis. J Hepatol. 1999;31(5):929-38.

14. Hennes EM, Zeniya M, Czaja AJ, Parés A, Dalekos GN, Krawitt EL, et al. Simplified criteria for the diagnosis of autoimmune hepatitis. Hepatology. 2008;48(1):169-76.

15. Khor WC, Puah SM, Tan JA, Puthucheary SD, Chua KH. Phenotypic and Genetic Diversity of Aeromonas Species Isolated from Fresh Water Lakes in Malaysia. PLoS ONE. 2015;10(12).

16. Chuang HC, Ho YH, Lay CJ, Wang LS, Tsai YS, Tsai CC. Different clinical characteristics among Aeromonas hydrophila, Aeromonas veronii biovar sobria and Aeromonas caviae monomicrobial bacteremia. J Korean Med Sci. 2011;26(11):1415-20.

17. Shizuma T, Tanaka C, Mori H, Fukuyama N. Investigation of Bacteremia due to Aeromonas Species and Comparison with That due to Enterobacteria in Patients with Liver Cirrhosis. Gastroenterol Res Pract. 2011;2011:1-4.

18. Janda JM, Guthertz LS, Kokka RP, Shimada T. Aeromonas species in septicemia: laboratory characteristics and clinical observations. Clin Infect Dis. 1994;19(1):77-83.

19. Ko WC, Lee HC, Chuang YC, Liu CC, Wu JJ. Clinical features and therapeutic implications of 104 episodes of monomicrobial Aeromonas bacteraemia. J Infect. 2000;40(3):267-73.

20. Ko WC, Chuang YC. Aeromonas bacteremia: review of 59 episodes. Clin Infect Dis. 1995;20(5):1298-304.

21. Bunchorntavakul C, Chavalitdhamrong D. Bacterial infections other than spontaneous bacterial peritonitis in cirrhosis. World J Hepatol. 2012;4(5):158-68.

22. Fernandez J, Navasa M, Gomez J, Colmenero J, Vila J, Arroyo V, et al. Bacterial infections in cirrhosis: epidemiological changes with invasive procedures and norfloxacin prophylaxis. Hepatology. 2002;35(1):140-8.

23. Yumoto T, Ichiba S, Umei N, Morisada S, Tsukahara K, Sato K, et al. Septic shock due to Aeromonas hydrophila bacteremia in a patient with alcoholic liver cirrhosis: a case report. J Med Case Rep. 2014; 8: 402.

24. Spadaro S, Berselli A, Marangoni E, Romanello A, Colamussi MV, Ragazzi R, et al. Aeromonas sobria necrotizing fasciitis and sepsis in an immunocompromised patient: a case report and review of the literature. J Med Case Rep. 2014; 8 :315.

25. Mandell GL, Bennett JE, Dolin R. Mandell, Douglas, and Bennett's principles and practice of infectious diseases. 7th ed. Philadelphia, PA: Churchill Livingstone/Elsevier; 2010.

26. Chiva M, Guarner C, Peralta C, Llovet T, Gomez G, Soriano G, et al. Intestinal mucosal oxidative damage and bacterial translocation in cirrhotic rats. Eur J Gastroenterol Hepatol. 2003;15(2):145-50.

27. Shin GW, You MJ, Cho HS, Yi SW, Lee CS. Severe sepsis due to Aeromonas aquariorum in a patient with liver cirrhosis. Jpn J Infect Dis. 2013; 66(6): 519-22.

28. Tsai MS, Kuo CY, Wang MC, Wu HC, Chien CC, Liu JW. Clinical features and risk factors for mortality in Aeromonas bacteremic adults with hematologic malignancies. J Microbiol Immunol Infect. 2006;39(2):150-4.

29. Bogdanos DP, Gao B, Gershwin ME. Liver immunology. Compr Physiol. 2013;3(2):567-98.

30. Gleeson D, Heneghan MA; British Society of G. British Society of Gastroenterology (BSG) guidelines for management of autoimmune hepatitis. Gut. 2011;60(12):1611-29.

31. Soloway RD, Summerskill WH, Baggenstoss AH, Geall MG, Gitnick GL, Elveback IR, et al. Clinical, biochemical, and histological remission of severe chronic active liver
disease: a controlled study of treatments and early prognosis. Gastroenterology. 1972;63(5):820-33.

32. Delgado JS, Vodonos A, Malnick S, Kriger O, Wilkof-Segev R, Delgado B, et al. Autoimmune hepatitis in southern Israel: a 15-year multicenter study. J Dig Dis. 2013;14(11):611-8.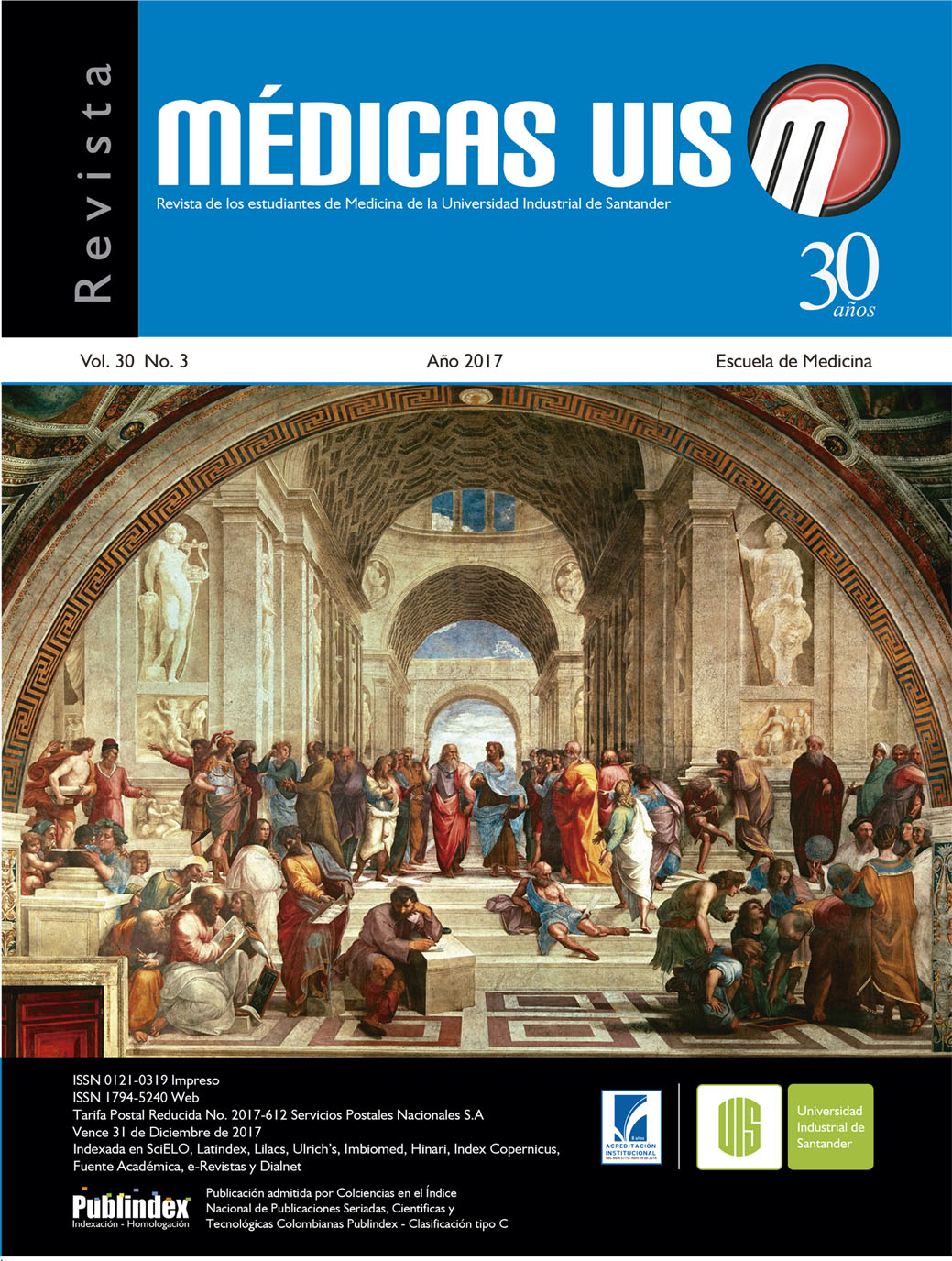 Sección
Presentación de caso