Hallazgo de diclofenaco en un producto fitoterapéutico a base de caléndula comercializado en Colombia
Resumen
Introducción: la consulta de un particular que trajo un producto fitoterapéutico a base de caléndula cuyo consumo le causó fuertes reacciones adversas, originó esta investigación sobre la composición de este producto. Objetivo: caracterizar  la  composición  química  de  muestras  de  lotes  diferentes  de  un  producto comercial  denominado fitoterapéutico  a  base  de  caléndula (Calendula  officinalis) (PFC) comercializado  en  Colombia. Metodología: se analizaron tabletas de ocho cajas del PFC de cuatro lotes diferentes de producción (2017 y 2018). Se llevó a cabo el análisis de espacio de cabeza (HS) de tabletas por microextracción en fase sólida (SPME), con una fibra PDMS/DVB (65 μm), expuesta al HS de la muestra durante 30 min a 50 °C. Las fracciones volátiles se analizaron por cromatografía de gases acoplada a espectrometría de masas (GC/MS). Los extractos de tabletas obtenidos con mezcla de metanol:agua (1:1, v/v) se analizaron por cromatografía líquida (LC) de alta (HPLC) y ultra-alta eficiencia (UHPLC), con detectores de arreglo de diodos (DAD) y espectrometría de masas de alta resolución (HRMS), respectivamente; la  cuantificación  de  diclofenaco  se  hizo  por  calibración  con  patrón  externo  y  poradición de estándar. Los espectros de masas de baja y alta resolución y patrones de fragmentación de las sustancias detectadas se estudiaron, usando GC/HRMS y LC/HRMS-Orbitrap. Resultados: en tabletas analizadas por HS-SPME, se  encontraron  monoterpenoides  y  sesquiterpenoides  de  origen  vegetal,  ftalatos,  residuos  de  solventes (2-cloroetanol, etilenglicol) y sustancias químicas intermediarias en la síntesis de diclofenaco (2,6-dicloroanilina y  2,6-cloro-N-fenil-bencenamina).  En  los  cromatogramas,  obtenidos  por  GC/MS  de  los  extractos  de  tabletas obtenidos con diclorometano, se detectaron diclofenaco, sus impurezas A, B y C, los ésteres de diclofenaco y algunas  otras  impurezas.  Diclofenaco  en  cantidad  ca. 40 mg (7-8%) se cuantificó por HPLC en tabletas (> 70 analizadas) escogidas al azar de ocho cajas del PFC, adquirido en el mercado local de Bucaramanga (Colombia). Conclusión: en cada tableta analizada se determinaron alrededor de 40 mg del compuesto sintético diclofenaco (sustancia no declarada en la etiqueta del producto) y en ninguna se detectaron ésteres de los triterpenoides oleanano o faradiol, constituyentes del extracto de caléndula que poseen actividad antiinflamatoria; se encontraron algunos flavonoides comunes a muchas plantas, en cantidades mil veces menores que la de diclofenaco.
Palabras clave:
Diclofenaco, Fitoterapéutico, Calendula officinalis, GC/MS, HPLC, LC/MS
Descargas
La descarga de datos todavía no está disponible.
Referencias
1. Invima. 2020: http://www.invima.gov.co.
2. Della Loggia R, Tubaro A, Sosa S, Becker H, Saar St, Isaac O. the role of triterpenoids in the topical anti-inflammatory activity of Calendula officinalis flowers. Planta Med. 1994; 60(6): 516-520: doi: https://doi.org/10.1055/s-2006-959562
3. Hamburger M, Adler S, Baumann D, Förg A, Weinreich B. Preparative purification of the major anti-inflammatory triterpenoid esters from Marigold (Calendula officinalis). Fitoterapia. 2003; 74(4): 328-338. doi: https://doi.org/10.1016/S0367-326X(03)00051-0
4. Ukiya M, Akihisa T, Yasukawa K, Tokuda H, Suzuki T, Kimura Y. Anti-inflammatory, anti-tumor-promoting, and cytotoxic activities of constituents of marigold (Calendula officinalis) flowers. J Nat Prod. 2006; 69(12): 1692-1696. doi: https://doi.org/10.1021/np068016b
5. Preethi KG, Kuttan G, Kuttan R. Anti-inflammatory activity of flower extract of Calendula officinalis Linn. and its possible mechanism of action. Indian J Exp Biol. 2009; 47(2): 113-120. doi: https://doi.org/10.1515/JBCPP.2009.20.1.73
6. Flores D (Editor) Nonsteroidal Anti-Inflammatory Drugs (NSAIDs): Common Uses, Risks and Effectiveness. Pharmacology - Research Safety Testing and Regulation Series. New York: Nova Science Publishers; 2017: 1-199.
7. Sehajpal S, Prasad DN, Singh RK. Prodrugs of Non-steroidal Anti-Inflammatory Drugs (NSAIDs): A long march towards synthesis of safer NSAIDs. Mini Rev Med Chem 2018; 18(14): 1199-1219. doi: https://doi.org/10.2174/ 1389557518666180330112416
8. International Organization for Standardization. General Requirements for the Competence of Testing and Calibration Laboratories. ISO/IEC 17025:2005.
9. Ministerio de Salud y Protección Social. Manual de buenas prácticas de laboratorio de control de calidad de productos farmacéuticos. Guía de Evaluación. Resolución 3619 de 2013. 2013: 1- 73.
10. Giannelli PC. Forensic Science: Chain of custody. Faculty publications. 1996; 345: 447-465.
11. Angulo RD. Cadena de custodia en criminalística. Segunda Edición, Bogotá D. C.: Ediciones Doctrina y Ley Ltda.; 2007: 1 - 253.
12. Adams RP. Identification of essential oil components by gas chromatography/mass spectrometry, 4th Edition, Carol Stream, IL: Allured Publishing; 2007: 1- 804.
13. NIST. 2020: https://webbook.nist.gov/chemistry.
14. Johnstone RA, Rose ME. Mass spectrometry for chemists and biochemists. Second Edition. Cambridge: Cambridge University Press, 1996: 1-501.
15. McLafferty FW, Tureček F. Interpretation of Mass Spectra. 4th Edition, Mill Valley, California: University Science Books; 1993: 1-371.
16. Maurer HH, Pfleger K, Weber AA. Mass Spectral and GC Data of drugs, poisons, pesticides, pollutants, and their metabolites. Volume 1: Methods and Tables. Volume 2: Mass Spectra. Third revised and enlarged edition. Weinheim: Wiley-VCH Verlag GmbH&Co. KGaA. 2007; (Vol 1) 1 - 202; (Vol. 2) 2 - 1208.
17. Stashenko E, Martínez JR. Identification of essential oil components. In: Hashemi SMB, Khaneghah AM, Sant'Ana AdeS (Editors). Essential Oils in Food Processing: Chemistry, Safety and Applications. 1st Edition. Chichester: Wiley & Sons; 2017: 57-117. doi: https://doi.org/10.1002/9781119149392.ch3
18. Babushok VI, Linstrom PJ, Zenkevich IG. Retention indices for frequently reported compounds of plant essential oils. J Phys Chem Ref Data. 2011; 40(4): 043101. doi: https://doi.org/10.1063/1.3653552
19. González FR, Nardillo AM. Retention index in temperature-programmed gas chromatography. J Chromatogr A. 1999; 842(1-2): 29-49. doi: https://doi.org/10.1016/S0021-9673(99)00158-2
20. Davies NW. Gas chromatographic retention indices of monoterpenes and sesquiterpenes on methyl silicone and Carbowax 20M phases. J Chromatogr, 1990; 503: 1-24. doi: https://doi.org/10.1016/S0021-9673(01)81487-4
21. Pawliszyn J (Editor). Applications of solid phase microextraction. RSC chromatography monographs. Ed. Cambridge: The Royal Society of Chemistry, 1999: 1-655.
22. Pawliszyn J (Editor). Handbook of solid phase microextraction, Beijing: Chemical Industry Press, 2009: 1-410.
23. Kolb B, Ettre LS. Static Headspace-Gas Chromatography. Theory and Practice. New York: Wiley-VCH, 1997: 1-298.
24. Tankiewicz M, Namieśnik J, Sawicki W. Analytical procedures for quality control of pharmaceuticals in terms of residual solvents content: Challenges and recent developments. Trends Anal Chem (TrAC). 2016; 80: 328-344. doi: https://doi.org/ 10.1016/j.trac.2015.09.008
25. Kitson FG, Larsen BS, McEwen CN. Gas Chromatography and Mass Spectrometry. A Practical Guide. San Diego, CA: Academic Press, 1996, 1 - 381.
26. Gerhards P, Bons U, Sawazki J, Szigan J, Wertmann A. GC/MS in Clinical Chemistry. Weinheim: Wiley-VCH Verlag GmbH, 1999: 1-241.
27. Hafeez F, Zahoor AF, Ahmad S, Ahmad M, Faiz S. Recent progress in the synthesis of diclofenac based NSAIDs analogs/derivatives. Synth Commun, 2019; 49 (3): 325-350. doi: https://doi.org/10.1080/00397911.2018.1515367
28. Eichler C, Cohen EA, Little JC. Assessing Human exposure to chemicals in materials, products and articles: The international risk management landscape for phthalates. Env Sci Technol. 2019; 53(23): 13583-13597. doi: https://doi.org/10.1021/ acs.est.9b03794
29. The European Pharmacopeia, 5th Edition, Direction de la Qualité de Médicament du Conseil de l´Europe (2), 2005: 1532-1534.
30. Roy J, Islam M, Khan A, Das SC, Akhteruzzaman M, Deb AK, et al. Diclofenac sodium injection sterilized by autoclave and the occurrence of cyclic reaction producing a small amount of impurity. J Pharm Sci. 2001; 90(5): 541-544. doi: https://doi.org/10.1002/1520-6017(200105)90:5<541::AID-JPS1011>3.0.CO;2-O.
31. Galmier MJ, Bouchon B, Madelmont JC, Mercier F, Pilotaz F, Lartigue C. Identification of degradation products of diclofenac by electrospray ion trap mass spectrometry. J Pharm Biomed Anal, 2005; 38(4): 790-796. doi: https://doi.org/ 10.1016/j.jpba. 2005.02.016
32. Ferrer I, Thurman EM (Editors). Liquid chromatography time-of-flight mass spectrometry. Principles, tools, and applications for accurate mass analysis. A series of monographs on analytical chemistry and its applications. Hoboken, New Jersey: John Wiley & Sons, Inc., Publication; 2009: 1-262.
33. The United States Pharmacopeia. National Formulary (USP 41, NF 36). Volume 1. Rockville (MD): United States Pharmacopeial Convention; Diclofenac; 2018: 1254.
34. The British Pharmacopeia. The British Pharmacopeia Commission. The Stationary Office. Volume 1, UK. 1999: 494-495.
35. Kromidas S (Editor). The HPLC-MS Handbook for Practitioners. Weinheim: WileyVCH Verlag GmbH & Co. KGaA, 2017: 1-233.
36. El Haj BM, Al Ainri AM, Hassan MH, Khadem RK, Marzouq MS. The GC/MS analysis of some commonly used non-steroidal anti-inflammatory drugs (NSAIDs) in pharmaceutical dosage forms and in urine. Forensic Sci Int, 1999; 105(3): 141-153. doi: https://doi.org/10.1016/S0379-0738(99)00106-1
37. www.drugs.com/diclofenac.html. 2020.
38. Rojas JD. Drogas naturistas: estudio de caso, Trabajo de Grado, Facultad de Ciencias, Universidad Industrial de Santander, Bucaramanga, Colombia, 2019: 101-102.
39. http://pdr.net/drug-summary/Voltaren-XR-diclofenac-sodium-2033.6043.
40. Grob K. Split and Splitless Injection in Capillary GC, with Some Remarks on PTV Injection, 3rd Enlarged and Revised Edition, Heidelberg: Hüthig Buch Verlag GmbH; 1993: 1-547.
41. Jaeger H (Editor). Capillary Gas Chromatography – Mass Spectrometry in Medicine and Pharmacology, Heidelberg: Dr. Alfred Hüthig Buch Verlag GmbH; 1987: 1-308.
42. Toyo´oka T (Editor). Modern Derivation Methods for Separation Sciences, Chichester, UK: John Wiley and Sons Ltd; 1999: 1-298.
43. Blau K, Halket J (Editors). Handbook of Derivatives for Chromatography, Second Edition, Chichester, UK: John Wiley and Sons Ltd, 1993: 1-370.
44. Snow N (Editor). Basic Multidimensional Gas Chromatography, London, UK: Academic Press; 2020: 1-330.
45. Ramos L (Editor). Comprehensive Two-Dimensional Gas Chromatography. Amsterdam: Elsevier; 2009: 1-328.
46. López de Bustamante FM. Plantas medicinales y aromáticas. Estudio, cultivo y procesado. Madrid: Mundi-Prensa; 1987: 125-128.
47. Ministerio de la Protección Social. Vademécum colombiano de plantas medicinales. Bogotá, D.C., Colombia, 2008: 53-55.
48. Di Lorenzo C, Dell'agli M, Badea M, Dima L, Colombo E, Sangiovanni E, et al. Plant food supplements with anti-inflammatory properties: A systematic review (II), Crit Rev Food Sci Nutr. 2013; 53(5): 507-516. doi: https://doi.org/10.1080/10408398.2012.691916
49. Food and Drug Administration (FDA). Spices and other natural seasonings and flavorings. Code of Federal Regulations. 1997, Title 21 §182.10.
50. Verma PK, Raina R, Agarwal S, Kour H. Phytochemical ingredients and pharmacological potential of Calendula officinalis Linn. Review Article. Pharm Biomed Res, 2018; 4(2): 1-17. doi: https://doi.org/10.18502/pbr.v4i2.214
51. Muley BP, Khadabadi SS, Banarase NB. Phytochemical constituents and pharmacological activities of Calendula officinalis Linn (Asteraceae): A review. Trop J Pharm Res. 2009; 8(5): 455-465. doi: https://doi.org/10.4314/tjpr.v8i5.48090
52. Arora D, Rani A, Sharma A. A review on phytochemistry and ethnopharmacological aspects of genus Calendula. Pharmacog Rev. 2013; 7(14): 179-187. doi: https://doi.org/10.4103/0973-7847.120520
53. Basch E, Bent S, Foppa I, Haskmni S, Kroll D, Mele M, et al. (National Standard Research Collaboration), Marigold (Calendula officinalis L.). J Herbal Pharmacother. 2006; 6 (3-4):135-159. doi: https://doi.org/10.1080/J157 v06n03_08
54. European Medicines Agency. Assessment report on Calendula officinalis L., flos. 2008. Contract N°: EMEA/HMPC/179282/2007.
55. Chalchat JC, Garry RP, Michet A. Chemical composition of essential oil of Calendula officinalis L. (Pot Marigold). Flav Fragr J. 1991; 6: 189-192. doi: https://doi.org/10.1002/ffj.2730060306.
56. Gazim ZC, Rezende CM, Fraga SR, Filho BP, Nakamura CV, Garcia DA. Analysis of the essential oils from Calendula officinalis growing in Brazil using three different extraction procedures. Bras J Pharm Sci, 2008; 44(3): 391-395. doi: https://doi.org/ 10.1590/S1516-93322008000300008
57. Sharapin N. Fundamentos de Tecnología de Productos Fitoterapéuticos. Santafé de Bogotá, D.C: CYTED – Convenio Andrés Bello, Secretaría Ejecutiva del Convenio Andrés Bello (SECAB); 2000: 1-256.
58. Barthel HR, Axford-Gatley RA. Topical nonsteroidal anti-inflammatory drugs for osteoarthritis. Postgrad Med. 2010; 122(6): 98-106. doi: https://doi.org/10.3810/ pgm.2010.11.2227
59. Purcell P, Henry D, Melville G. Diclofenac hepatitis. Gut. 1991; 32(11): 1381-1385. doi: https://doi.org/10.1136/gut.32.11.1381
60. Hippisley-Cox J, Coupland C. Risk of myocardial infarction in patients taking cyclo-oxygenase-2 inhibitors or conventional non-steroidal anti-inflammatory drugs: population based nested case-control analysis. Brit Med J. 2005; 330(7504): 1366. Doi: https://doi.org/10.1136/bmj.330.7504.1366
61. Hippisley-Cox J, Coupland C, Logan R. Risk of adverse gastrointestinal outcomes in patients taking cyclo-oxygenase-2 inhibitors or conventional non-steroidal anti-inflammatory drugs: population based nested case control analysis. Brit Med J. 2005; 331(7528): 1310-1316. doi: https://doi.org/10.1136/bmj.331.7528.1310
62. Richy F, Bruyere O, Ethgen O, Rabenda V, Bouvenot G, Audran M, et al. Time dependent risk of gastrointestinal complications induced by non-steroidal anti-inflammatory drug use: a consensus statement using a meta-analytic approach. Ann Rheum Dis, 2004; 63(7): 759-766. Doi: https://doi.org/10.1136/ard.2003.015925
63. Whelton A, Hamilton CW. Nonsteroidal anti-inflammatory drugs: effects on kidney function. J Clin Pharm. 1991; 31(7): 588-598. doi: https://doi.org/10.1002/j.1552-4604.1991.tb03743.x
64. Banks A, Zimmerman H, Ishak K, Harter J. Diclofenac-associated hepatotoxicity: analysis of 180 cases reported to the food and drug administration as adverse reactions. Hepatology. 1995; 22(3): 820-827. doi: https://doi.org/10.1002/hep. 1840220320
65. Yanaka A, Zhang S, Sato D, Tauchi M, Suzuki H, Shibahara T, et al. Geranylgeranylacetone protects the human gastric mucosa from diclofenac-induced injury via an induction of heat shock protein 70. Digestion. 2007; 75(2-3): 148-155. https://doi.org/10.1159/000106756
66. Ungprasert P, Cheungpasitporn W, Crowson C, Matteson E. Individual non-steroidal anti-inflammatory drugs and risk of acute kidney injury: A systematic review and meta-analysis of observational studies. Eur J Int Med. 2015; 26(4): 285-291. doi: https://doi.org/10.1016/j.ejim.2015.03.008
67. Aun MV, Blanca M, Garro LS, Ribeiro M, Kalil J, Motta AA, et al. Nonsteroidal anti-inflammatory drugs are major causes of drug-induced anaphylaxis. J Allerg Clin Immunol: In Practice, 2014; 2(4): 414-420. doi: http://dx.doi.org/10.1016/j.jaip.2014.03.014.
68. Nayyar G, Breman J, Mackey T, Clark J, Hajjou M, Littrell M, et al. Falsified and substandard drugs: Stopping the pandemic. Amer J Trop Med Hyg. 2019; 100(5): 1058-1065. doi: https://doi.org/10.4269/ajtmh.18-098.
69. WHO. WHO Member State Mechanism on Substandard/Spurious /Falsely labelled/Falsified/Counterfeit (SSFFC) Medical Products. 2017; http://www.who.int/medicines/regulation/ssffc/A70_23-en1.pdf.
70. OECD/EUIPO. Trends in Trade in Counterfeit and Pirated Goods, Illicit Trade, OECD Publishing, Paris/European Union Intellectual Property Office, 2019. https://doi.org/10.1787/g2g9f533-en.
71. World Bank. How does the World Bank classify countries? Washington (DC): World Bank; 2016 (https://datahelpdesk.worldbank.org/knowledgebase/articles/378834-how-does-the-world-bank-classify-countries).
72. A study on the public health and socioeconomic impact of substandard and falsified medical products. Geneva: World Health Organization, WHO, 2017. License: CC BY-NC-SA 3.0 IGO.
73. Decreto 1156 de 2018. Por el cual se reglamenta el régimen de registro sanitario de productos fitoterapéuticos y se dictan otras disposiciones. Ministerio de Salud y Protección Social, República de Colombia. 2018: 1-25.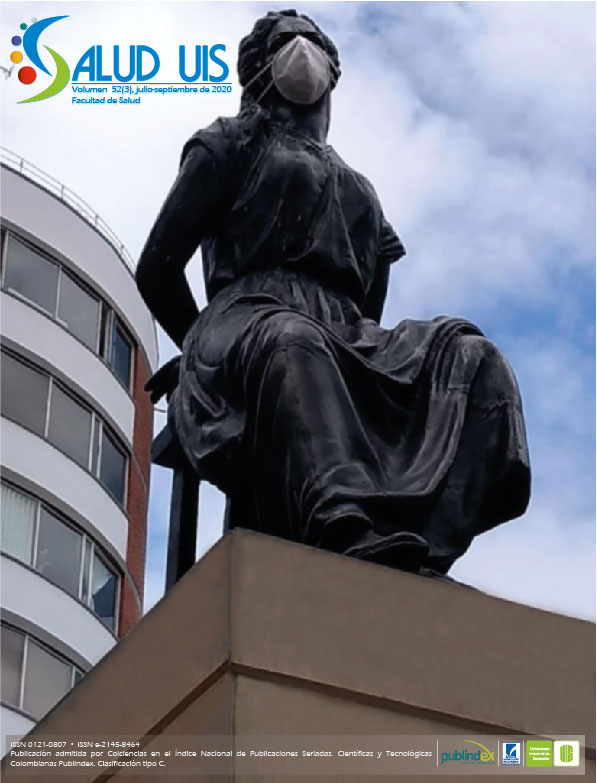 Sección
Artículos Científicos
Esta obra está bajo licencia internacional
Creative Commons Reconocimiento 4.0
.
Se autoriza la reproducción total o parcial de la obra para fines educativos, siempre y cuando se cite la fuente.
Esta obra está bajo una Licencia Creative Commons Atribución 4.0 Pública Internacional.