Aspectos epidemiológicos de coccidiosis intestinales en comunidad rural de la Península de Paraguaná, estado Falcón, Venezuela
Dalmiro José Cazorla Perfetti

Universidad Nacional Experimental Francisco de Miranda - Venezuela

María Eugenia Acosta Quintero

Universidad Nacional Experimental Francisco de Miranda - Venezuela

Pedro Morales Moreno

Universidad Nacional Experimental Francisco de Miranda - Venezuela
Resumen
Introducción: Las coccidiosis intestinales ocasionadas por Cryptosporidium, Cystoisospora belli y entre abril-junio de 2015, se realizó un estudio prospectivo, descriptivo y transversal para Cyclospora cayetanensis constituyen patologías parasitarias de alta relevancia en la Salud Pública. Objetivo: Determinar la prevalencia y parámetros epidemiológicos de coccidiosis intestinales en 188 habitantes de "El Hato", Estado Falcón, Venezuela. Metodología: Para la identificación de los probables factores de riesgos asociados a las coccidiosis intestinales se usó una ficha encuesta-epidemiológica. El diagnóstico parasitológico se realizó con el método directo y la coloración de Kinyoun. Resultados: La prevalencia global de parasitosis intestinales fue 64,36%, siendo Blastocystis spp. el taxón más frecuentemente observado (39,89%). La prevalencia de coccidios intestinales fue 37,23%, observándose prevalencias de 32,98% para Cyclospora cayetanensis, 26,60% para Cryptosporidium spp. y 3,19% para Cystoisospora belli. Con la aplicación del análisis de regresión logística múltiple se determinó como potenciales factores de riesgo independientes significativamente involucrados en la transmisión de las entero-coccidiosis: lavado inadecuado de manos [Odds Ratio (OR) = 1,89], el consumo de "comidas rápidas" (OR=1,26), empleo del agua más frecuentemente para aseo personal y lavado de vestimentas (OR=2,88), tener un nivel socio-económico bajo (nivel IV/V-Graffar) (OR=1,41), nivel de instrucción de la madre (primaria/secundaria) (OR=0,53), que se realice limpieza del hogar interdiario (OR=2,95), y que se posea animales (OR=2,06). Conclusiones: Los hallazgos de esta investigación muestran que las infecciones ocasionadas por los coccidios intestinales aun representan un problema de salud pública en las áreas rurales de Venezuela.
Palabras clave:
Coccidios intestinales, prevalencia, Cryptosporidium, Cystoisospora belli, Cyclospora cayetanensis,, Venezuela
Descargas
La descarga de datos todavía no está disponible.
Citas
1. Botero D, Restrepo M.Parasitosis intestinales por protozoos. En: Parasitosis Humanas. Medellín, Colombia: Corporación para Investigaciones Biológicas, 2012. p. 37-118.

2. World Health Organization. Global report for research on infectious diseases of poverty. Geneva: WHO; 2012.

3. Cama V, Mathison B. Infections by intestinal coccidia and Giardia duodenalis. Clin Lab Med. 2015; 35(2): 423-444. DOI:10.1016/j.cll.2015.02.010.

4. Ruggiero M, Gordon D, Orrell T, Bailly N, Bourgoin T, Brusca R, et al. A higher level classification of all living organisms. PLoS ONE. 2015; 10(4): e0119248. DOI:10.1371/ journal. pone.0119248.

5. Cavalier-Smith T. Gregarine site-heterogeneous 18S rDNA trees, revision of gregarine higher classification, and the evolutionary diversification of Sporozoa. Eur J Protistol. 2014; 50(5): 472-495. DOI: 10.1016/j.ejop.2014.07.002.

6. Pacheco F, Silva R, MartinsA, Oliveira R, Alcântara-Neves N, Silva M, et al. Differences in the detection of Cryptosporidium and Isospora (Cystoisospora) oocysts according to the fecal concentration or staining method used in a clinical laboratory. J Parasitol. 2013; 99(6):1002-1008. DOI: 10.1645/12-33.1.

7. Checkley W, White AC Jr, Jaganath D, Arrowood M, Chalmers R, Chen X, et al. A review of the global burden, novel diagnostics, therapeutics, and vaccine targets for Cryptosporidium. Lancet Infect Dis. 2015; 15(1): 85-94. DOI: 10.1016/S1473-3099(14)70772-8.

8. Yang Y, Zhou YB, Xiao PL, Shi Y, Chen Y, Liang S, et al. Prevalence of and risk factors associated with Cryptosporidium infection in an underdeveloped rural community of southwest China. Infect Dis Poverty. 2017; 6(1): 2. DOI: 10.1186/s40249-016-0223-9.

9. Bhattachan B, Sherchand JB, Tandukar S, Dhoubhadel BG, Gauchan L, Rai G. Detection of Cryptosporidium parvum and Cyclospora cayetanensis infections among people living in a slum area in Kathmandu valley, Nepal. BMC Res Notes. 2017; 10(1): 464. DOI: 10.1186/s13104-017-2779-2.

10. Kłudkowska M, Pielok Ł, Frąckowiak K, Paul M. Intestinal coccidian parasites as an underestimated cause of travellers' diarrhoea in Polish immunocompetent patients. Acta Parasitol. 2017; 62(3): 630-638. DOI: 10.1515/ap-2017-0077.

11. Gupta AK. Intestinal coccidian parasitic infections in rural community in and around Loni, Maharashtra. J Parasit Dis. 2011;35(1):54-6. DOI: 10.1007/s12639-011-0030-y.

12. Swathirajan CR, Vignesh R, Pradeep A, Solomon SS, Solomon S, Balakrishnan P. Occurrence of enteric parasitic infections among HIV-infected individuals and its relation to CD4 T-cell counts with a special emphasis on coccidian parasites at a tertiary care centre in South India. Indian J Med Microbiol. 2017; 35(1): 37-40. DOI: 10.4103/ijmm.IJMM_16_164.

13. Hassen Amer O, Ashankyty IM, Haouas NA. Prevalence of intestinal parasite infections among patients in local public hospitals of Hail, Northwestern Saudi Arabia. Asian Pac J
Trop Med. 2016; 9(1): 44-48. DOI: 10.1016/j.apjtm.2015.12.009.

14. Babatunde SK, Salami AK, Fabiyi JP, Agbede OO, Desalu OO. Prevalence of intestinal parasitic infestation in HIV seropositive and seronegative patients in Ilorin, Nigeria. Ann Afr Med. 2010; 9(3): 123-128. DOI: 10.4103/1596-3519.68356.

15. Kassi RR, Kouassi RA, Yavo W, Barro-Kiki CP, Bamba A, Menan HI, et al. Cryptosporidiosis and isosporiasis in children suffering from diarrhoea in Abidjan. Bull Soc Pathol Exot. 2004; 97(4): 280-282.

16. Endeshaw T, Mohammed H, Woldemichael T. Cryptosporidium parvum and other intestinal parasites among diarrhoeal patients referred to EHNRI in Ethiopia. Ethiop Med J. 2004; 42(3): 195-198.

17. Ghenghesh KS, Ghanghish K, BenDarif ET, Shembesh K, Franka E. Prevalence of Entamoeba histolytica, Giardia lamblia, and Cryptosporidium spp. in Libya: 2000-2015. Libyan J Med. 2016; 11: 32088. DOI: 10.3402/ljm.v11.32088.

18. Vela C. Prevalencia y manifestaciones clínicas de coccidios intestinales en pacientes con VIH/SIDA. Tesis de grado. Universidad Francisco Marroquín.

19. Miller K, Durán-Pinales C, Cruz-López A, Morales-Lechuga L, Taren D, et al. Cryptosporidium parvum in children with diarrea in Mexico. Am J Trop Med Hyg. 1994; 51(3): 322-325.

20. Quihui-Cota L, Lugo-Flores CM, Ponce-Martínez JA, Morales-Figueroa GG. Cryptosporidiosis: a neglected infection and its association with nutritional status in schoolchildren in northwestern Mexico. J Infect Dev Ctries. 2015; 9(8):878-883. DOI: 10.3855/jidc.6751.

21. Salomón M, Tonelli R, Borremans C, Bertello D, De Jong L, Jofré C, et al. Prevalencia de parásitos intestinales en niños de la ciudad de Mendoza, Argentina. Parasitol Latinoam. 2007; 62(1): 49-53.

22. Silva-Díaz H. 2017. Coccidiosis intestinal en el Perú: actualización de su frecuencia, transmisión y diagnóstico de laboratorio. Rev Exp Med. 2017; 3(2): 74-78.

23. Cazorla D, Acosta M, Acosta M, Morales P. Estudio clínico-epidemiológico de coccidiosis intestinales en una población rural de región semiárida del estado Falcón, Venezuela. 2012; Invest Clín. 53(3):173-181.

24. Cazorla D, Leal G, Escalona Á, Hernández J, Acosta M, Morales P. Aspectos clínicos y epidemiológicos de la infección por coccidios intestinales en Urumaco, estado Falcón, Venezuela. Bol Mal Salud Amb. 2014; 54(2): 159-173.

25. Cazorla D, Lehmann S, Carrero C, Bravo F, Acosta M, Morales P. Perfiles clínicos y epidemiológicos de la infección por coccidios intestinales en Mirimire, estado Falcón, Venezuela. Saber. 2015; 27(1): 37-52.

26. Ewel J, Madriz A, Tosi Jr.J. Zonas de Vida de Venezuela. Memoria explicativa sobre el mapa ecológico, 2a edición, Caracas, Venezuela: Editorial Sucre. 1976.

27. Cochran, W. Muestreo aleatorio simple. En: Técnicas de muestreo. DF, México: CECSA, 1998. P. 43-78.

28. Méndez- Castellano H, López M, Landaeta M, González A. Estudio transversal de Caracas. Arch Venez Puericult Pediatr. 1986; 49(3/4): 111- 115.

29. Botero D, Restrepo M.Técnicas de Laboratorio en parasitología médica. En: Parasitosis Humanas. Medellín, Colombia: Corporación para Investigaciones Biológicas, 2012. p. 679-720.

30. Morales G, Pino de Morales L.Conceptos básicos en ecología y epidemiología de parásitos. En: Parasitometría. Valencia, Venezuela: Talleres de
Clemente Editores, 1995. p. 27-53.

31. Mickey J, Greenland S. A study of the impact of confounder-selection criteria on effect estimation. Am J Epidemiol. 1989; 129(1): 125-137.

32. Sangronis M, Pérez M, Oberto L, Rodríguez A, Navas P, Martínez D. Geohelmintiasis intestinal en preescolares y escolares de una población rural: realidad socio-sanitaria. Estado Falcón, Venezuela. Rev Soc Ven Microbiol. 2008; 28(1):14-19.

33. Aguín V, Sofía A, Sequera I, Serrano R, Pulgar V, Renzo I. Prevalencia y relación entre parasitosis gastrointestinal y bajo rendimiento académico en escolares que acuden a la escuela Bolivariana de Jayana, Falcón Venezuela 2009. Rev CES Sal Púb. 2011; 2(2):125-135.

34. Reyes I, Betancourt O. Parasitosis intestinal y educación sanitaria en alumnos de la Unidad Educativa Guamacho. Rev Cubana Invest Bioméd. 2012; 31(1): 123-128.

35. Devera R, Jaimes N, Yánez A, Amaya I, Blanco Y, Mata J, et al. Uso del cultivo en el diagnóstico de Blastocystis sp. Rev Soc Ven Microbiol. 2013; 33(1): 60-65.

36. Barrios E, Delgado V, Araque W, Chiang M, Martínez L, Materán G, et al. Cryptosporidium: diagnóstico y prevalencia en niños sanos del estado Carabobo, Venezuela. 2004; Salus. 8(2): 45-52.

37. Devera R, Blanco Y, Cabello E. Elevada prevalencia de Cyclospora cayetanensis en indígenas del estado Bolívar, Venezuela. Cad Saúde Pública. 2005; 21(6): 1778-1784.

38. Tutaya R, Blanco Y, Sandoval M, Alcalá F, Aponte M, Devera R. Coccidiosis intestinal en habitantes del barrio 6 de noviembre, Ciudad Bolívar, Estado Bolívar, Venezuela. Rev Biomed. 2006; 17(2):152-154.

39. Chacín-Bonilla L, Barrios F, Sánchez Y. Environmental risk factors for Cryptosporidium infection in an island from Western Venezuela. 2008; Mem Inst Oswaldo Cruz. 103(1): 45-49.

40. Chacón N, Salinas R, Kuo E, Durán C, Márquez W, Contreras R. Ocurrencia de Isospora belli, Cryptosporidium spp. y Cyclospora cayetanensis en pacientes urbanos evaluados por síntomas gastrointestinales con o sin inmunosupresión. Rev Fac Med. 2009; 32(2): 124-131.

41. Freites A, Colmenares D, Pérez M, García M, Díaz de Suárez O. Infección por Cryptosporidium sp y otros parásitos intestinales en manipuladores de alimentos del estado Zulia, Venezuela. Invest Clín. 2009; 50(1): 13-21.

42. Devera R, Blanco Y, Certad I, Figueras L, Femayor A. Prevalence of intestinal coccidian in preschool children from San Felix City, Venezuela. Rev Soc Ven Microbiol. 2010; 30(1): 61-64.

43. Tedesco R, Camacaro Y, Morales G, Amaya I, Blanco Y, Devera R. Parásitos intestinales en niños de hogares de cuidado diario comunitarios de Ciudad Bolívar, Estado Bolívar, Venezuela. Saber. 2012; 24(2): 142-150.

44. Chu D, Sherchand J, Cross J, Orlandi P. Detection of Cyclospora cayetanensis in animal fecal isolates from Nepal using an FTA filter-base polymerase chain reaction method. Am J Trop Med Hyg. 2004; 71(4): 373-379.

45. Ortega Y, Sanchez R. Update on Cyclospora cayetanensis, a food-borne and waterborne parasite. Clin Microbiol Rev. 2010; 23(1): 218-234.

46. Chacín-Bonilla L, Barrios F. Cyclospora cayetanensis: biología, distribución ambiental y transferencia. Biomédica. 2011; 31(1): 132-144.

47. Marangi M, Koehler A, Zanzani S, Manfredi M, Brianti E, Giangaspero A, et al. Detection of Cyclospora in captive chimpanzees and macaques by a quantitative PCR-based mutation scanning approach. Parasit Vectors. 2015; 8: 274. DOI: 10.1186/s13071-015-0872-8.

48. Awadallah M, Salem L. Zoonotic enteric parasites transmitted from dogs in Egypt with special concern to Toxocara canis infection. Vet World. 2015; 8(8): 946-957. DOI: 10.14202/vetworld.2015.946-957.

49. Cruickshank R, Ashdown L, Croese J. Human cryptosporidiosis in North Queensland. Aust N Z J Med. 1988; 18(4): 582-586.

50. Xiao L. 2010. Molecular epidemiology of cryptosporidiosis: an update. Exp Parasitol. 124(1): 80-89.

51. Ryan U, Hijjawi N. New developments in Cryptosporidium research. Int J Parasitol. 2015; 45: 367-373. DOI: 10.1016/j.ijpara.2015.01.009.

52. Devera R, Blanco Y, Amaya I, Nastasi M, Rojas G, Vargas B. Parásitos intestinales en habitantes de la comunidad rural "La Canoa", estado Anzoátegui, Venezuela. 2014; Rev Ven Salud Pública. 30(1): 61-64.

53. Devera R, Ortega N, Suárez M. Parásitos intestinales en la población del Instituto Nacional del Menor, Ciudad Bolívar, Venezuela. Rev Soc Ven Microbiol. 2007; 27(1): 349-363.

54. Certad G, Arenas-Pinto A, Pocaterra L, Ferrara G, Castro J, Bello A, et al. Isosporosis in Venezuelan infected with human immunodeficiency virus: clinical characterization. 2003. Am J Trop Med Hyg. 69(2): 217-222.

55. Bastidas G, Rojas C, Martínez E, Loaiza L, Guzmán M, Hernández V, et al. Prevalencia de parásitos intestinales en manipuladores de alimentos en una comunidad rural de Cojedes, Venezuela. Acta Méd Costarric. 2012; 54(4): 241- 245.

56. Cazorla D, Morales P, Chirinos M, Acosta M. Evaluación parasitológica de hortalizas comercializadas en Coro, estado Falcón, Venezuela. Bol Malariol Salud Amb. 2009; 49(1): 117-125.

57. Cazorla D, Morales P, Chirinos P. 2013. Evaluación parasitológica de cuatro especies de vegetales utilizados en establecimientos de "comida rápida" en Coro, Falcón, Venezuela. 2013; Rev Venez Cienc Tecnol Aliment. 4(1): 32-46.

58. Blanco M, de Lucio A, Fuentes I, Carmena D. Cryptosporidium ubiquitum in Venezuela: First report in a paediatric patient with acute diarrhoea. Enferm Infecc Microbiol Clin. 2015; 34(2): 142-143. DOI: 10.1016/j.eimc.2015.05.010.

59. Wang R, Li G, Cui B, Huang J, Cui Z, Zhang S, et al. Prevalence, molecular characterization and zoonotic potential of Cryptosporidium spp. in goats in Henan and Chongqing, China. Exp Parasitol. 2014; 142: 11-16. DOI: 10.1016/j.exppara.2014.04.001.

60. Armas W, Arvelo M, Delgado A, D´Aubeterre R. El circuito caprino en los estados Lara y Falcón (Venezuela), 2001-2003: una visión estratégica. Agroalim. 2006; 11(23): 101-110.

61. Laatamna A, Wagnerová P, Sak B, Květoňová D, Xiao L, Rost M, et al. Microsporidia and Cryptosporidium in horses and donkeys in Algeria: detection of a novel Cryptosporidium
hominis subtype family (Ik) in a horse. Vet Parasitol. 2015; 208(3-4): 135-142.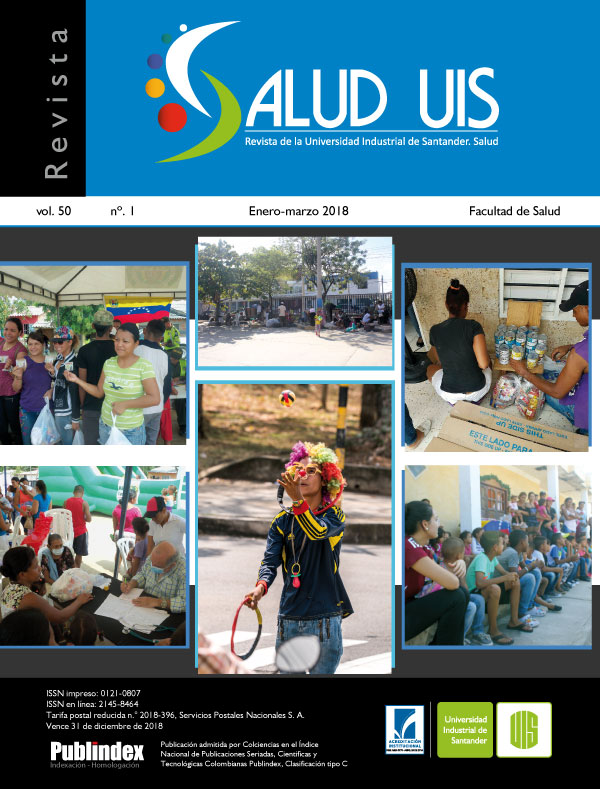 Sección
Artículos Científicos