Environmental Health Compromised by a New Epidemic. The case of Uruguay, COVID-19
Resumen
Uruguay se ubica en Sudamérica con una población de 3286314 habitantes. El 1,6% no tiene seguro integral de salud. Los casos detectados de COVID 19  representan el 0,022 por ciento de la población. Las muertes con relación a los casos detectados representan el 2,6%. La mortalidad por causa es de 0,6 por cien mil habitantes. El 14 % de los detectados corresponden a personal de salud Paulatinamente el país está saliendo del aislamiento social. En el artículo se muestran los casos acumulados, recuperados y activos. Los autores enmarcan las causas de esta zoonosis en un problema de Salud Ambiental y por lo tanto Global, dentro  del enfoque una sola salud. El hombre ha ocupado los suelos de forma extractiva, con urbanización creciente, creciente número de población, diferentes prácticas culturales y condiciones socio-económicas, que han modificado los hábitat  naturales. Esto favorece la aparición de zoonosis emergentes y en particular virus con genoma RNA. Si no se atiende a la causalidad del fenómeno, seguiremos asistiendo a desafíos cada vez mayores.
Descargas
La descarga de datos todavía no está disponible.
Referencias
1. National Institute of Statistic (INE, Spanish acronym) Resultados del Censo de Población 2011: población, crecimiento y estructura por sexo y edad, 2012. https://web.archive.org/web/20190115212157/http://ine.gub.uy/documents/10181/35289/analisispais.pdf/cc0282ef-2011-4ed8-a3ff-32372d31e690

2. World Health Organization, Health Topic, Country: Uruguay. 2016. https://www.who.int/countries/ury/es/

3. United Nations Development Program (UNDP), 2014. Rapport sur le développement humain 2014. http://hdr.undp.org/sites/default/files/hdr14-report-fr.pdf

4. National Institute of Statistic (INE, Spanish acronym). Boletín Técnico Actividad, Empleo y Desempleo, 2019. www.ine.gub.uy/documents/10181/30865/ECH+Empleo+Enero+2020/43ad8dd9-baff-4af8-8589-881

5. Central Bank of Uruguay (BCU, Spanish acronym). Estadísticas y Estudios. Nota Metodológica – Marzo 2020, 2020. https://www.bcu.gub.uy/Estadisticas-e-Indicadores/Paginas/Presentacion%20Cuentas%20Nacionales.aspx

6. National Ministery of Health (MSP, Spanish acronym) Informes. Informe Cobertura poblacional del SNIS según prestador 2018. https://www.gub.uy/ministerio-salud-publica/tematica/cobertura-poblacional

7. Instituto Pasteur de Montevideo. Udelar e IP Montevideo presentaron kit de diagnóstico COVID-19, 2020. http://pasteur.uy/novedades/udelar-e-ip-montevideo-presentaron-kit-de-diagnostico-covid-19/

8. Rabinowitz P, Conti L. Links among human health, animal health, and ecosystem health. Annu Rev Public Health. 2013; 34: 189-204. doi: 10.1146/annurev-publhealth-031912-114426.

9. Dennehy JJ. Evolutionary ecology of virus emergence. Ann. NY Acad Sci. 2017; 1389(1): 124-146. doi: 10.1111/nyas.13304

10. Estrada-Peña A, Ostfeld RS, Townsend Peterson A, Poulin R, de la Fuente J. Effects of environmental change on zoonotic disease risk: an ecological primer. Trends in Parasitol. 2014; 30(4): 205-214. doi: 10.1016/j.pt.2014.02.003

11. McMahon J, Morand S, Gray JS. Ecosystem change and zoonoses in the Anthropocene. Zoonoses Public Health. 2018; 65(7): 755-765. doi: 10.1111/zph.12489

12. Altieri M, Nicholls CI. La agroecología en tiempos del COVID-19. Consejo Latinoamericano de Ciencias Sociales (CLACSO). 2020. https://www.clacso.org/la-agroecologia-en-tiempos-del-covid-19/

13. Wallace R. Big farms make big flu: dispatches on influenza disease, agribusiness, and the nature of science. Monthly Review. NY, 2016.

14. Linares S, Di Nucci J,Velázquez G. Cambios en el sistema urbano. En: Velázques G, coordinador. Geografía y calidad de vida en Argentina. Un análisis regional y departamental 2010. Tandil. CIG-UNCPBA. 2016; 67-81.

15. Chanampa ME, Lorda MA. Informal settlements and urban regularization. Production of territorialities in tension. Bitácora Urbano Territorial. 2020; 30(1): 141-150. doi: http://dx.doi.org/10.15446/bitacora.v30n1.69896

16. Beuf A. Centralidad y policentralidad urbanas. Espiral Rev Geograf Ciencias Sociales. 2020; 1(2): 131-155.

17. Jones BA, Grace D, Kock R, Alonso S, Rushton J, Said MY, et al. Zoonosis emergence linked to agricultural intensification and environmental change. Proc Natl Acad Sci USA. 2013; 110(21): 8399-8404. doi: 10.1073/pnas.1208059110

18. Abdullahi IN, Emeribe AU, Mustapha JO, Fasogbon SA, Ofor IB, Opeyemi IS, et al. Exploring the genetics, ecology of SARS-CoV-2 and climatic factors as possible control strategies against COVID-19. Infez Med. 2020; Ahead of Print 28(2): 166-173.

19. Plowright RK, Eby P, Hudson PJ, Smith IL, Westcott D, Bryden WL, et al. Ecological dynamics of emerging bat virus spillover. Proc R Soc B. 2015. doi: http://dx.doi.org/10.1098/rspb.2014.2124

20. Gostic K, Gomez AC, Mummah RO, Kucharski AJ, Lloyd-Smith JO. Estimated effectiveness of symptom and risk screening to prevent the spread of COVID-19. Elife. 2020; 9: e55570. doi:10.7554/eLife.55570

21. Zhan M, Qin Y, Xue X, Zhu S. Death from Covid-19 of 23 Health Care Workers in China. N Engl J Med. 2020; 382(23): 2267-2268. doi: 10.1056/NEJMc2005696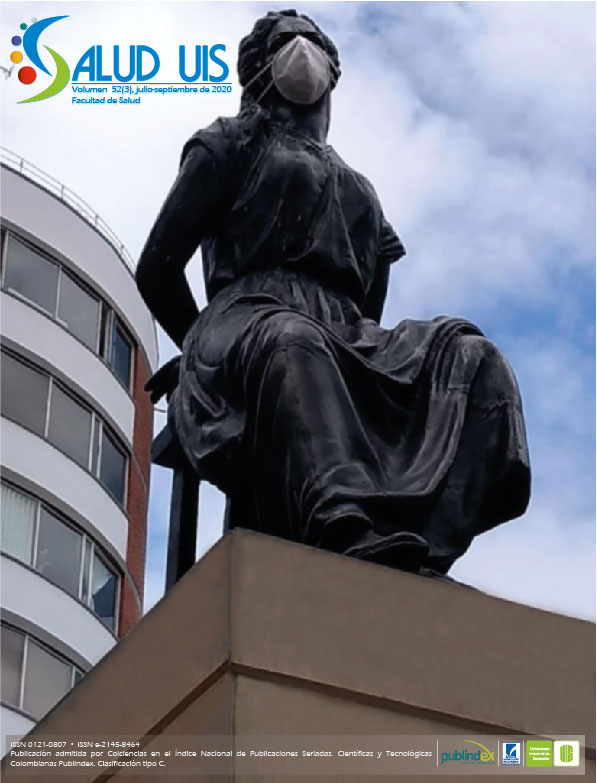 Esta obra está bajo licencia internacional
Creative Commons Reconocimiento 4.0
.
Se autoriza la reproducción total o parcial de la obra para fines educativos, siempre y cuando se cite la fuente.
Esta obra está bajo una Licencia Creative Commons Atribución 4.0 Pública Internacional.