Genotipificación del Virus de Papiloma Humano en mujeres de la comuna norte de Bucaramanga
Laura Melissa Torrado

Universidad de Santander - UDES

Bladimiro Rincón Orozco

Universidad Industrial de Santander

Ruth Martínez Vega

Universidad de Santander - UDES
Resumen
Introducción: La infección persistente con Virus de Papiloma Humano de alto riesgo es causa necesaria para la aparición de cáncer de cérvix. Objetivo: Caracterizar molecularmente los genotipos circulantes de Virus de Papiloma Humano en población de la zona Norte de Bucaramanga. Métodos: Estudio de corte transversal en mujeres de 35 a 65 años con riesgo ≥3 puntos para desarrollar cáncer de cérvix determinado por una encuesta estandarizada. En una muestra cervico-vaginal por autotoma se realizaron pruebas moleculares por tecnología HPV Direct Flow CHIP. Resultados: Se encuestaron 810 mujeres, de éstas 435 (53,7%) se realizaron auto-toma por el riesgo presentado. La mediana de edad fue de 47,3 años (RIQ 41-53 años). Casi la totalidad de la población reside en estrato 1 y 2 (98,8%) y en su mayoría son del régimen subsidiado (87,2%). La prevalencia de infección fue de 10,6% (IC 95%: 7,8 - 13,8), para genotipos de alto riesgo fue de 3,9% (IC 95%: 2,3 - 6,2), de bajo riesgo de 3,5% (IC 95%: 1,4 - 5,6) y para genotipo indeterminado de 1,9%. El genotipo de alto riesgo más común fue VPH-59 y de bajo riesgo fue VPH-62/81. Hubo coinfección con genotipos alto/bajo riesgo en cinco mujeres y coinfección con dos genotipos de bajo riesgo en una mujer. Conclusión: la prevalencia de infección por Virus de Papiloma Humano en mujeres que habitan en zonas vulnerables de Bucaramanga es menor a la reportada en Bogotá y Cali (14,9% y 13%, respectivamente). No se encontró predominio de ningún genotipo de alto riesgo en particular. 
Palabras clave:
Cáncer de cuello uterino, técnicas de diagnóstico molecular, pruebas de ADN del Papillomavirus Humano, detección precoz del cáncer, estudios transversales
Descargas
La descarga de datos todavía no está disponible.
Citas
1. Duensing S, Münger K. Mechanisms of genomic instability in human cancer: Insights from studies with human papillomavirus oncoproteins. Int J Cancer. 2004; 109(2): 157-162. doi: 10.1002/ijc.11691.

2. Parkin DM, Bray F, Ferlay J, Pisani P. Global Cancer Statistics, 2002. CA Cancer J Clin. 2005; 55(2): 74-108. doi: https://doi.org/10.3322/canjclin.55.2.74.

3. Ferlay J, Soerjomataram I, Dikshit R, Eser S, Mathers C, Rebelo M, et al. Cancer incidence and mortality worldwide: sources, methods and major patterns in GLOBOCAN 2012. Int J Cancer. 2015; 136(5): E359-386. doi: 10.1002/ijc.29210.

4. Mishra G, Pimple S, Shastri SS. An overview of prevention and early detection of cervical cancers. Ind J Med Paediatr Oncol. 2011; 32 (3): 125-132. doi: 10.4103/0971-5851.92808.

5. Muñoz N, Bravo LE. Epidemiology of cervical cancer in Colombia. Salud Publica Mex. 2014; 56(5): 431-439.

6. Murillo R, Wiesner C, Cendales R, Pineros M, Tovar S. Comprehensive evaluation of cervical cancer screening programs: the case of Colombia. Sal Publica Mex. 2011; 53(6): 469-477.

7. Castro-Jiménez MA, Londoño-Cuellar PA, Vera-Cala LM. Asistencia a citología del cuello uterino y sus determinantes en una población rural colombiana, 1998-1999. Rev Salud Pública. 2006; 8(3): 248-257.

8. Ojeda G, Ordóñez M, Ochoa LH. Encuesta nacional de demografía y salud Colombia 2010. Asociación Probienestar de la familia colombiana, Macro internacional, editores; 2011.

9. Lucumy DI, Gómez LF. Accesibilidad a los servicios de salud en la práctica de citología reciente de cuello uterino en una zona urbana de Colombia. Rev Esp Salud Publica. 2004; 78(3): 367-377.

10. Bermedo-Carrasco S, Peña-Sánchez JN, Lepnurm R, Szafron M, Waldner C. Inequities in cervical cancer screening among Colombian women: a multilevel analysis of a nationwide survey. Cancer Epidemiol. 2015; 39(2): 229-236. doi: 10.1016/j.canep.2015.01.011.

11. Calderón CA, Botero JC, Bolaños JO, Martínez RR. The Colombian healthcare system: 20 years of achievements and problems. Cien Saude Colet. 2011; 16(6): 2817-2828.

12. Arbyn M, Verdoodt F, Snijders PJF, Verhoef VMJ, Suonio E, Dillner L, et al. Accuracy of human papillomavirus testing on self-collected versus clinician-collected samples: a meta-analysis. Lancet Oncol. 2014; 15(2): 172-183. doi: 10.1016/S1470-2045(13)70570-9.

13. Arbyn M, Castle PE. Offering self-sampling kits for HPV testing to reach women who do not attend in the regular cervical cancer screening program. Cancer Epidemiol Biomarkers Prev. 2015; 24(5): 769-772. doi:10.1158/1055-9965.EPI-14-1417.

14. Cuzick J, Clavel C, Petry KU, Meijer CJ, Hoyer H, Ratnam S, et al. Overview of the European and North American studies on HPV testing in primary cervical cancer screening. Int J Cancer. 2006; 119(5):1095-1101. doi: 10.1002/ijc.21955.

15. Herraez-Hernandez E, Alvarez-Perez M, Navarro-Bustos G, Esquivias J, Alonso S, Aneiros-Fernandez J, et al. HPV Direct Flow CHIP: a new human papillomavirus genotyping method based on direct PCR from crude-cell extracts. J Virol Methods. 2013; 193(1): 9-17. doi: 10.1016/j.jviromet.2013.04.018.

16. Bouvard V, Baan R, Straif K, Grosse Y, Secretan B, El Ghissassi F, et al. A review of human carcinogens-Part B: biological agents. Lancet Oncol. 2009; 10(4): 321-322.

17. Bruni L, Diaz M, Castellsagué X, Ferrer E, Bosch FX, de Sanjosé S. Cervical Human Papillomavirus prevalence in 5 continents: meta‐analysis of 1 Million women with normal cytological findings. J Infect Dis. 2010; 202(12): 1789-1799. doi: 10.1086/657321.

18. Clifford GM, Gallus S, Herrero R, Muñoz N, Snijders PJF, Vaccarella S, et al. Worldwide distribution of human papillomavirus types in cytologically normal women in the International Agency for Research on Cancer HPV prevalence surveys: a pooled analysis. Lancet. 2005; 366(9490): 991-998. doi: 10.1016/S0140-6736(05)67069-9.

19. Molano M, Posso H, Weiderpass E, Van den Brule AJC, Ronderos M, Franceschi S, et al. Prevalence and determinants of HPV infection among Colombian women with normal cytology. Br J Cancer. 2002; 87(3): 324-333. doi: 10.1038/sj.bjc.6600442.

20. Muñoz N, Xavier Bosch F, Castellsagué X, Díaz M, De Sanjose S, Hammouda D, et al. Against which human papillomavirus types shall we vaccinate and screen? The international perspective. Int J Cancer. 2004; 111(2): 278-285. doi: 10.1002/ijc.20244.

21. Vargas H, Sánchez JP, Guerrero ML, Ortiz LT, Rodríguez DM, Amaya J, et al. Type-specific identification of genital human papillomavirus infection in women with cytological abnormality. Acta Cytol. 2016; 60(3): 211-216. doi: 10.1159/000446389.

22. Bruni L, Barrionuevo-Rosas L, Albero G, Serrano B, Mena M, Gómez D, et al. ICO/IARC Information Centre on HPV and Cancer (HPV Information
Centre). Human Papillomavirus and Related Diseases in the World. Summary Report; 2017.

23. Cuschieri KS, Cubie HA, Whitley MW, Seagar AL, Arends MJ, Moore C, et al. Multiple high risk HPV infections are common in cervical neoplasia and young women in a cervical screening population. J Clin Pathol. 2004; 57(1): 68-72.

24. Mejlhede N, Pedersen BV, Frisch M, Fomsgaard A. Multiple human papilloma virus types in cervical infections: competition or synergy? APMIS. 2010;118(5): 346-352. doi: 10.1111/
j.16000463.2010.02602.x.

25. Wentzensen N, Nason M, Schiffman M, Dodd L, Hunt WC, Wheeler CM. No evidence for synergy between human papillomavirus genotypes for the risk of high-grade squamous intraepithelial lesions in a large population-based study. J Infect Dis. 2014; 209(6): 855-864. doi: 10.1093/infdis/jit577.

26. Carozzi FM, Ocello C, Burroni E, Faust H, Zappa M, Paci E, et al. Effectiveness of HPV vaccination in women reaching screening age in Italy. J Clin Virol. 2016; 84: 74-81. doi: 10.1016/j.jcv.2016.09.011.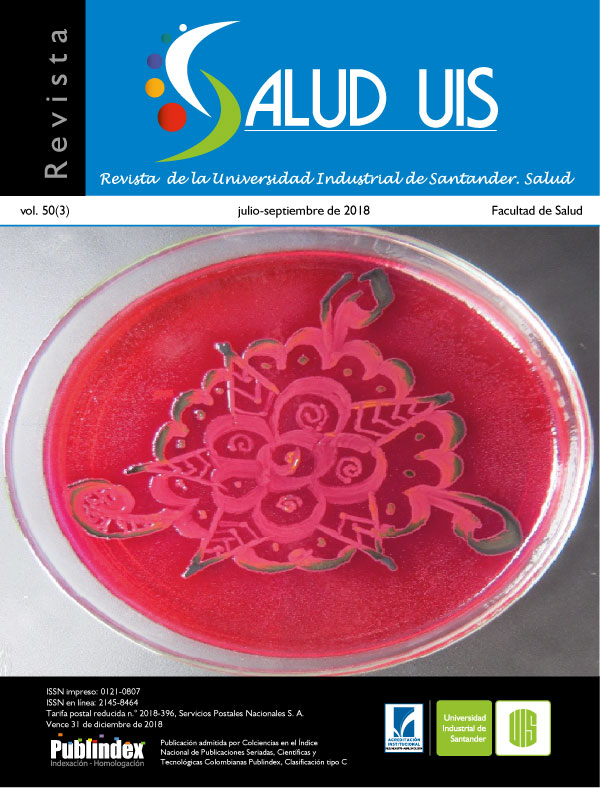 Sección
Artículos Científicos